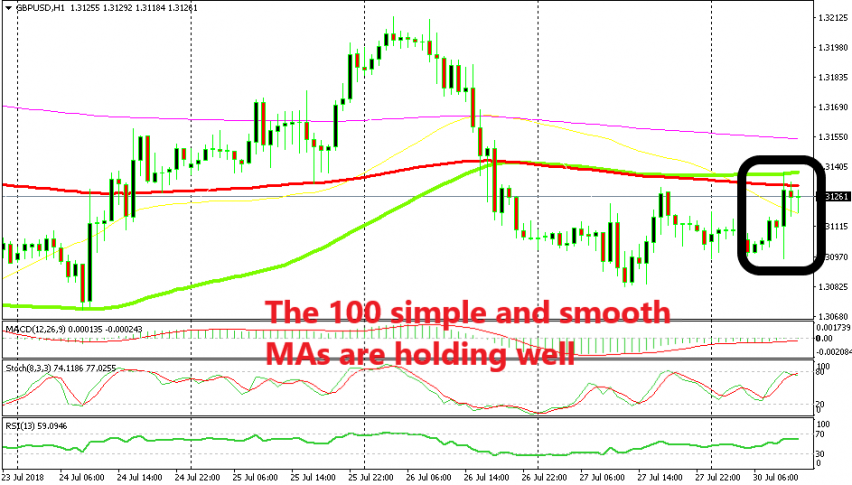 GBP/USD Signal Misses TP by 2 Pips and Reverses But the 100 SMAs Stand Strong
We opened a sell forex signal for GBP/USD last Friday. This pair made a bearish turnaround on Thursday and we decided to sell the retrace higher on Friday. It was below a bunch of moving averages which were supposed to provide resistance. The stochastic indicator was overbought on the H1 chart as well and the retrace up ended before the price reached the moving averages. It was a good decision to sell where we did at 1.3124.
The price moved lower in the afternoon before the week ended in forex. Today, the sellers had another attempt at the downside but the decline stopped at 1.3096. That's 2 pips above our take profit target. It is a terrible miss and it keeps our equity locked until that trade closes.
The UK net lending to individuals, which was released earlier this morning, ticked higher but that's not a very important piece of data so I don't think this popped GBP/USD higher. The Bank of England Chairman Mark Carney was commenting earlier as well, but his comments were about Brexit and they were sort of dovish, so we rule this out too.
For what it's worth, this is likely a USD move since most major currencies popped up together against the Buck. The higher German CPI inflation should have triggered this move. Although, the 100 SMAs green (simple) and red (smoothed) are providing solid resistance to GBP/USD today.
The area around here offers some resistance as well although nothing to write home about. But, the stochastic indicator is overbought and turning lower now, so the retrace up is complete on the H1 chart. The previous candlestick which looks like a hammer is another reversing signal, so hopefully, the retrace will be over soon and the bearish move will resume for GBP/USD.