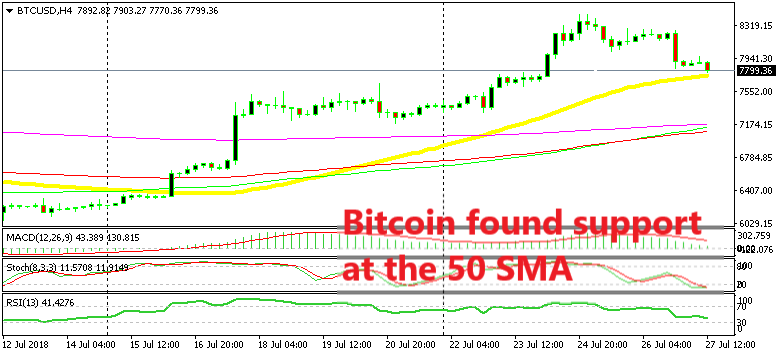 Is Bitcoin Alone in this Bullish Reversal?
Bitcoin started turning upwards late last month and this month that move started turning into a proper turnaround. After trading on a bearish trend for many months, Bitcoin looks set for a bullish reversal now.
Bitcoin has been climbing around $2,700 in the last months since the end of June, but it ran into the 50 SMA (yellow) on the weekly chart last week. The sellers unloaded some of their buy positions thinking that this moving average would be a major hassle for them.
This moving average is indeed a hassle on the weekly chart. It provided solid support on the first attempt and the price slipped $700 lower in the following days. But, the first real test for Bitcoin's bullish reversal could be observed on the H4 chart.
The 50 SMA (yellow) here is the defining line. If the price moves below it, then Bitcoin will probably resume the downtrend, if the 50 SMA holds, then the bullish reversal is still in play. That moving average held the decline and the price jumped $500 higher. So, it seems that the bullish reversal is alive and still evolving for Bitcoin. Although, Bitcoin must move above the same moving average on the weekly chart so the reversal enters its next phase.
The bullish reversal setup is underway in Bitcoin
In the first couple of weeks, I thought that this was a broad cryptocurrency move since other major cryptos were also climbing. But now we see that the rest of cryptocurrencies are lagging behind. In fact, by looking at the daily charts, we can see that they are still on a downtrend.
On the other hand, Bitcoin has moved above all moving averages on the daily chart as you can see above, Ethereum is still below all moving averages. It is not making new highs and the smaller moving averages have come into play now, pushing the price lower. When an asset can't break the smallest moving averages on a downtrend, it is simple – the trend is still bearish. The situation is the same in the other major cryptos such as Litecoin, Dash etc.
Moving averages are still pushing Litecoin lower
So, the verdict is clear, Bitcoin is doing everything to shift the trend from bearish to bullish and it is alone in this fight. This might be the time that Bitcoin diverges from the rest of the pack and begins a journey of its own, because until now, cryptocurrencies have been trading as a group.