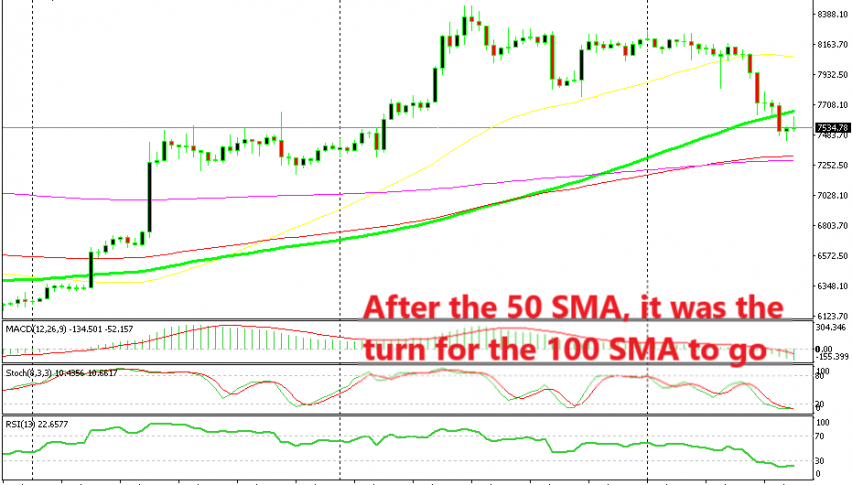 Bitcoin Breaks the 100 SMA As Bearish Momentum Continues
Yesterday, we highlighted the bearish reverse in Bitcoin. This cryptocurrency has been on a major downtrend since last December, but late last month it started to form a bullish reversal pattern and this month the bullish reverse unfolded properly.
Bitcoin claimed around $2,500 in July but it failed to break the 50 SMA (yellow) on the weekly chart. That cooled off the buyers' momentum. The bullish reversal took a pause and in the following days the sellers started getting active.
They tried the downside last week, but the 50 SMA held the ground on the H4 chart. On Monday, they tried to break the 50 SMA again but the buyers pushed back up and the price eventually closed above the 50 SMA once more. That seemed both bearish and bullish as I explained yesterday.
But, the sellers didn't give up and last afternoon, the 50 SMA finally got broken fair and square. Today, the 100 SMA was providing support as the 4 candlesticks formed a doji and a hammer above it which are reversing signals after the retrace down.
But, the 100 SMA couldn't hold for too long either and now we are below it. Switching to the daily Bitcoin chart, we can see that the same moving average, the 100 SMA just got broken here as well.
The 100 SMA is the defining line between a bullish reversal here and a bearish move to the 200 SMA
The stochastic indicator here is headed down and soon it will be oversold. If the daily candlestick closes below the 100 SMA (green), then the next target will be the 200 SMA which stands at around $7,000. That is a big round number so that level might be the target for the sellers before the uptrend resumes again. By that time, stochastic will be oversold, but we should see whether today's candlestick closes below the 100 SMA, otherwise, the bullish reversal might resume right here.