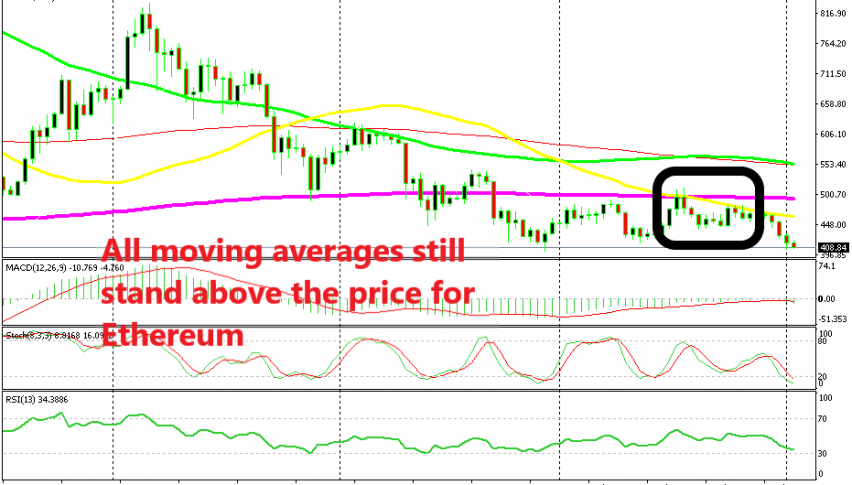 Ethereum Resumes the Bearish Trend and Threatens the Support
Bitcoin made a bullish reversal late last month and this month it entered the bullish phase in full force. The other major cryptocurrencies such as Ethereum or Litecoin started following the Bitcoin up and since the cryptos have been moving together as a pack from the beginning, the consensus was that the other cryptocurrencies would also enter a bearish reversal phase.
Although, I highlighted in the last few weeks that while the climb in Bitcoin was pretty decent, the climb in other altcoins looked pretty anemic. Bitcoin claimed around 50% of the value from the bottom below $6,000 to the top. The other digital currencies barely climbed 20-25%.
Ethereum climbed around $100 from low $400s, which accounts for around 25% of the value. Although, the most discouraging sign for Ethereum buyers was the fact that the price didn't move above the moving averages, unlike Bitcoin which broke all moving averages on the daily chart. In fact, Ethereum didn't even break the smallest of them, the 50 SMA (yellow).
That moving average, together with the 200 SMA (purple), provided solid resistance at around $500, which is where they were standing. The stochastic indicator was also overbought so, this sort of chart pattern pointed to a bearish reversal which I highlighted two weeks ago. Now the 50 SMA is pushing the price down which means that the downtrend has resumed again. In Bitcoin, the latest bearish move this week looks more like a retrace of the bigger bullish move which took place during last month.
Now, Ethereum is flirting with the support. Yesterday it posted $405 as the low on my trading platform, today the low comes at $407 so far. The area around $400-$405 was the high back in summer last year, as you can see from the weekly chart below.
The previous resistance area has now turned into support
It got broken during the crazy gold rush for cryptocurrencies late last year, but it turned into support this year as the gold rush cooled off. Now, Ethereum is flirting with this support level/area. If it gets broken, then the road will lay open for sellers. We don't know if Ethereum will break below this area, but if Bitcoin continues to retrace lower, then we might see a break pretty soon. If Bitcoin reverses up and resumes the downtrend, then this level will be safe for the time being. Although, it still looks very vulnerable because the buyers look pretty weak.