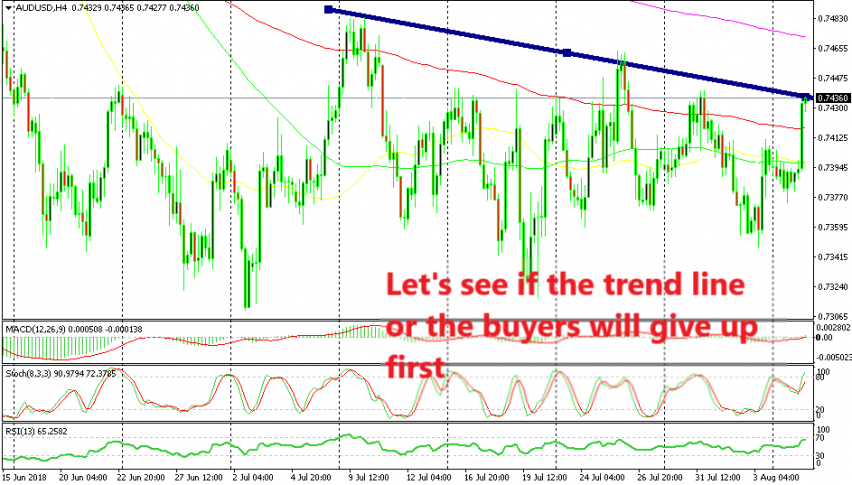 AUD/USD Meets Trend Line After Jumping on RBA Comments
As you can see form the H4 AUD/USD chart above, this pair has made a decent jump this morning worth around 50 pips. This jump came after the statement from the Reserve bank of Australia (RBA). The RBA kept interest rates unchanged as expected, so the damage was done by the RBA statement. What was the statement all about?
At first glance, the RBA didn't sound very positive regarding inflation this year. They said that there will be some one-off declines in some administered prices in September. This will result in the headline inflation being at 1.75%, which is a little lower than expected earlier for 2018. This should have sent AUD/USD tumbling, but the rest of the statement was quite the opposite.
The RBA sees inflation running higher and accelerating in 2019 and 2020. That should have balanced out the comments about softer inflation this year, but the market only took the positive comments and is running with it.
The RBA is also pretty confident that the unemployment rate will continue to fall since the pace of new jobs exceeds the pace of population growth. They mentioned the slowdown in the Chinese economy, but again, the market ignored the negative comments and only heard the positive ones.
AUD/USD jumped higher as a result. But, it has run into the descending trend line which connects the highs of the past several weeks. If the price moves above the trend line, then this will be a sign that this pair has changed the trend for the short term. If not, then the downtrend will still be in place. We already have two live forex trades so we stay out of this one.