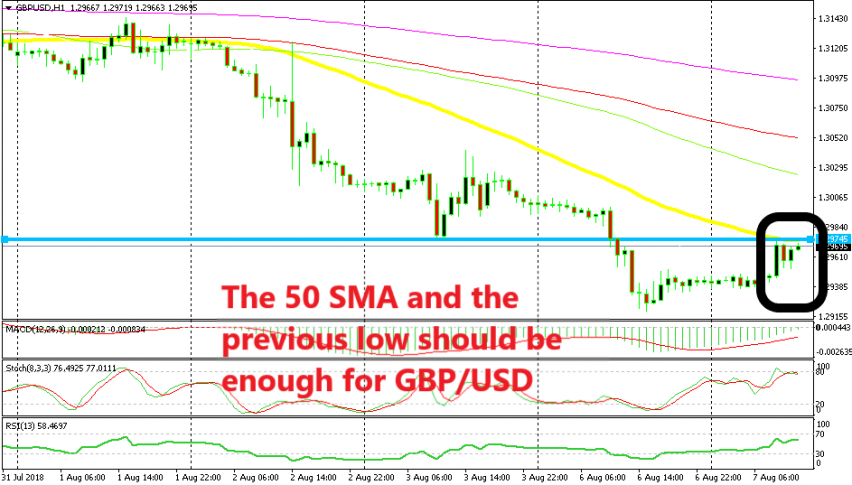 Selling the Pullback in GBP/USD
The USD has been on a bullish trend in the last week or so, meaning that risk currencies have been on the backfoot against the Buck. The situation has been worse in GBP/USD than in other major pairs since the Bank of England Chairman Mark Carney basically waved goodbye to any further rate hikes.
The downtrend has been even steeper on this forex pair and yesterday it completed the last bearish wave. The price broke below this year's low which comes at 1.2950s and GBP/USD lost around 80 pips from top to bottom yesterday.
Today though, the situation has changed across the board. The risk currencies are advancing against the USD with AUD/USD leading the way up. The Bank of Australia left interest rates unchanged and didn't sound as dovish as the market was expecting, hence the jump this morning.
That pulled NZD/USD up as well which we decided to sell a couple of hours ago. As we said, GBP/USD is higher as well and we just decided to sell this pair too. The chances of making a profit here are greater than in NZD/USD since the downtrend is quite steep in GBP/USD.
Besides, GBP/USD has reached the 50 SMA (yellow) which is providing solid resistance at 1.2975. This level was the low on Friday last week so it should provide some resistance as well now. Stochastic is overbought and heading down now so that goes in our favour as well. The climb seems to have stopped here, so hopefully we will see a reverse down and a continuation of the downtrend.