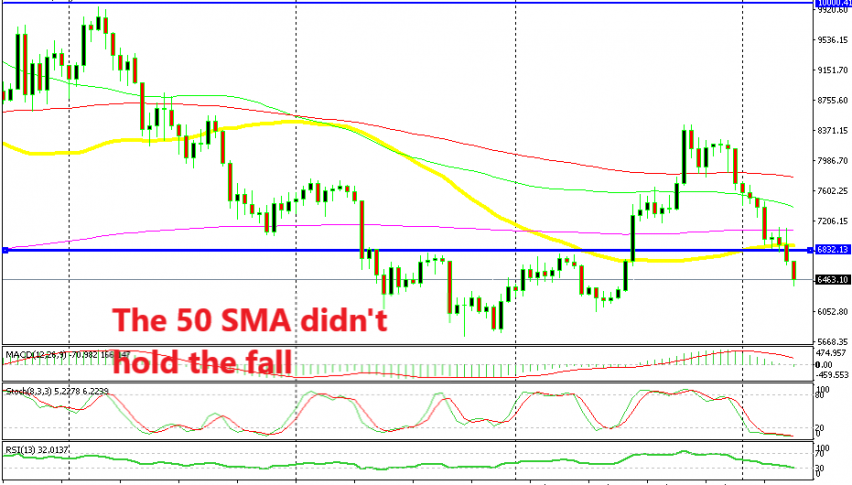 Bitcoin Slips Below the 50 SMA After SEC Delays ETF Listing Decision
Bitcoin completed a nice bullish run last month. It turned around after a strong downtrend which lasted for months and entered a bullish phase. Although, the bearish turnaround this month doesn't look too good or too promising for buyers like us.
The first wave of the bullish run ended for Bitcoin at $8,450 which looked normal to me. The 50 SMA (yellow) was waiting up there on the weekly chart and it provided strong resistance as I was expecting. After all, trends unfold in waves, so I expected this bearish turnaround, although I thought that this would be just a retrace lower before the next bullish wave.
I highlighted several times a few weeks ago that I expected this retrace lower, but I thought that it would end at the 50 SMA on the daily chart. That would be a normal place for the retrace down to end before the next bullish wave.
But, SEC decided to postpone the listing of the ETF listing in the US of Van Eck Associates and Solid Partners which is backed by Bitcoin itself. Now, the deadline has been postponed to the end of September.
This is negative news for Bitcoin and all other cryptocurrrencies and it comes at a bad time for Bitcoin. It came as Bitcoin was finding support at the 50 SMA on the daily chart. The 50 SMA stands at $7,800 which has been providing resistance twice, so I thought that this previous resistance would offer some support now and help the 50 SMA.
Things were going according to plan and the 50 SMA was providing support yesterday, but then the SEC's announcement came and Bitcoin formed a bearish gap in the evening, which took us below the 50 SMA. There have been rumours of "pump and dump" for some cryptocurrencies, where groups of trades talk them higher and then sell them.
Right now Bitcoin is trading at around $6,500. This level might offer some support but nothing is for sure right now. Let's first see where this decline will end. We have placed the stop loss target for our Bitcoin signal at $4,900 so there's plenty of room for manoeuvring.