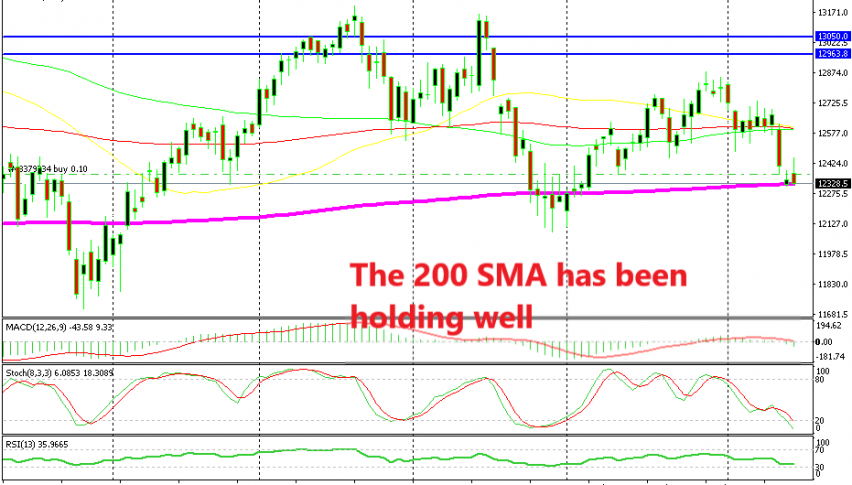 Playing the DAX at Moving Averages
The market sentiment has deteriorated in the last few trading days which has led to some pronounced weakness in the stock markets, particularly the European stocks. But, we see this as a retrace and a good opportunity to go long on DAX, which we did a while ago.
Looking at the daily DAX chart above, we can see that the stochastic indicator is oversold. This means that the daily chart is oversold, but this is not the main reason why we went long on DAX. We bought DAX because it is finding support at moving averages. At the same time, the market sentiment has improved somewhat so the decline in stocks has stopped.
On the daily chart, it is the 200 SMA (purple) which is providing support and holding the decline. This moving average hasn't been a really strong indicator recently, but it seems as it has turned into a strong support now.
The 100 SMA is doing its job again
This is because  another moving average is helping it in another timeframe chart. Switching to the weekly chart, we can see that the 100 SMA (green) comes at the same levels as the 200 SMA on the daily chart. That level is at 12,261 which has been the low so far today.
This moving average is a much better technical indicator since it has provided support quite a few times before, as you can see. Stochastic is not oversold here but this moving average has provided solid support and it has kept the uptrend in place this year, so it is almost safe to consider it as the best place to go long from. We did that so now comes the waiting game, especially since this signal is a long term one.