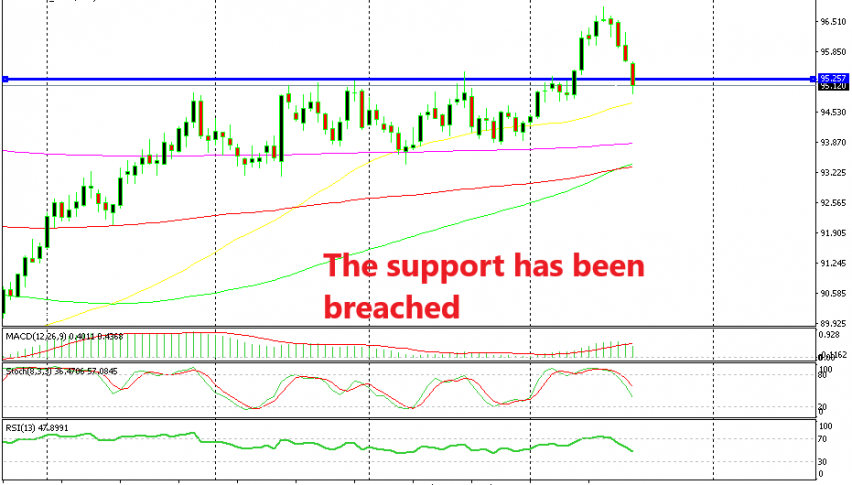 USDX Pierces the 100 SMA but Will it Close Below?
The USD index has been beginning its head against the resistance level at 95.00-95.50 for a couple of months but it finally broke above the resistance this month. The USDX reached 0.8684 on my platform, but it started reversing back down and now it has broken back below the ex-resistance level, which should have turned into support now, but it didn't. The daily candlestick broke below the support/resistance level so that is a proper break in my book, but that's just on the daily chart.
If we switch to the weekly chart, we can see that the resistance has been provided by the 100 SMA (green). It has been also pierced but the weekly candlestick needs three more days to close, so the price might pull back higher and close above the 100 SMA eventually.
The 100 SMA has been pierced but not broken until the end of the week when the weekly candle closes
If this week's candlestick closes above the 100 SMA, then the break doesn't count. The chart formation on the weekly timeframe looks pretty bearish though. Last week's candlestick closed as an upside-down hammer and this week's candlestick looks bearish too, but it hasn't closed yet as I said.
The stochastic indicator is overbought and turning down which is another bearish signal. Donald Trump didn't help matters much for USDX buyers on Monday when he said that he is not happy with FED raising interest rates. He accused Europeans and the Chinese for manipulating their currencies. So, it is not clear how things will evolve for the USDX and the USD from now on but let's see where the weekly candlestick will close.