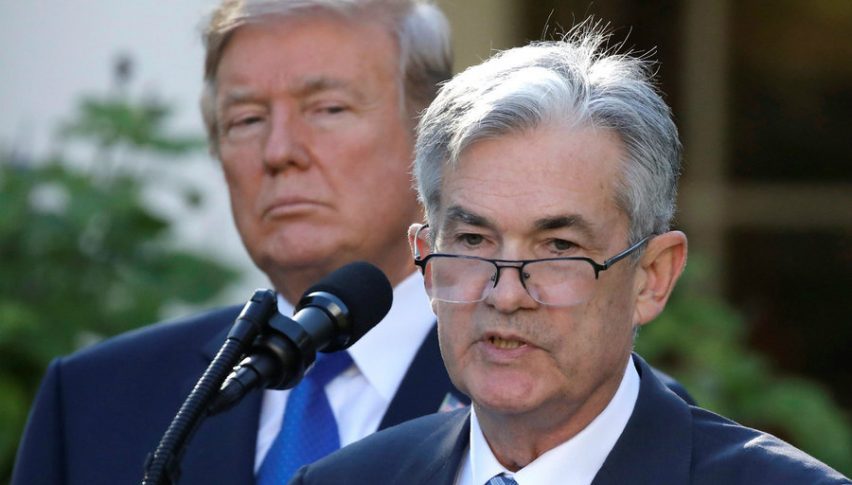 Forex Signals US Session Brief, August 24 – Markets Wait in a Limbo Before Central Bankers Pop Up from the Hole
Yesterday the Jackson Hole Symposium started and financial markets have been trying to get into position before the major central bankers start popping up for their speeches to share their wisdom. Today, FED's Bullard and more importantly Powell are on the schedule for a speech and markets are waiting on the sidelines to see where he will take us. Bullard popped up shortly to say that Powell will be very careful with his remarks later. We don't know if he means being careful when talking about interest rates or when talking about Trump's comments on FED's monetary policy. Well, I suppose we will know soon, or perhaps Powell will ignore everything and give us nothing substantial to trade.
On the opposite side of the globe, Australia has a new Prime Minister. That was a bit of a surprise to me, maybe because I'm not a close observer of Australian politics. Yesterday, the Aussie lost more than a cent on political troubles, but today it reversed and AUD/USD has climbed around 70 pips so far. The USD has been in a bit of a retreat again today, so we will see if Powell can change that later on.
The European Session
No New Election in Australia – After being appointed the Prime Minister of Australia, Scott Morrison said that there won't be elections anytime soon. That, as well as the fact that he was the Treasurer before, has calmed the market's nerves regarding the Aussie.
No Signs of Normalizing Relations from the US, Says Russia – Russian Foreign Minister said early this morning that he sees no signs that the US wants to normalize relations and that what was agreed upon during the Trump-Putin meeting is being undone. Well, there you go, Russia hasn't backed off from Ukraine, so why did they expect Trump to take the first step backwards when he is now known for making the first aggressive move? In this occasion, Trump is totally justified.
German Final GDP QoQ – The final estimate for the Q1 GDP came at 0.5% as expected. After the weak growth at 0.3% in Q1, the Q2 number looks pretty good and it brings growth back to its normal pace.
UK High Street Lending MoM – The number of mortgages lent by High Street banks jumped above 40k in June and the number for July was expected to come at 40.6k. But, it fell back below that level coming at 39.6K.
Italy to Clash with EU on Budget – That is what the Italian Interior Minister said this morning and he added that he sees first signs of economic attack on Italy. Not sure what he means by that, attacks from the EU rules, attacks from trade tariffs from the US or pressure from increased immigration in Italy? Well, the deadline is approaching for Italy to present its budget to the EU before the EU summit.
Sanctions on Russia to Continue for Bolton – Trump's National Security Advisor John Bolton is in Kiev and he said that sanctions on Russia are to stay in place until Russia changes its behaviour.
The US Session
Don't Expect Much Today Says Bullard – FED's Bullard said today that Powell will be very careful with remarks. He said that we mustn't worry about the yield curve and that's correct according to me. He added that the FED is focused on its legal mandate given by the Congress. This is the second member to take a shot at Trump for trying to interfere with FED's work.
US Durable Goods Orders – US durable goods orders fell by 1.7% against 1.0% expected. Last month's number was revised lower as well. That sent the Buck tumbling 40 pips lower so far despite the great jump in core durable goods orders which increased by 1.4% against 0.2% expected.
US Economy Is Doing Better Than Mester Had Anticipated – Kansas City FED president George said that the FED will likely hike interest rates twice. FED's Mester said a while ago that the economy had more momentum than previously anticipated. She boosted her growth forecast to 3% this year. The case for raising interest rates is pretty compelling, so that should be bullish for the USD which is declining at the moment.
More US Sanctions on Russia – I heard news just a while ago that the US is going to impose more sanctions on Russia for using chemical agents. If you haven't heard, there have been a few cases of poisoning of Russian citizens in the UK who are supposedly spies. It was about time this thing got taken care of.
US Flash Manufacturing PMI – US manufacturing data came at 54.5 PMI points against 55.1 points expected. The trend is bearish here as well, so it is very similar to Europe.
US New Home Sales – New home sales came at 627K against 643k expected. It is still a solid number and the USD is finding some bids now after the release of this report.
Eurozone Consumer Confidence – The consumer confidence fell to -2 points from -1 prior. Tariffs and trade disputes are hurting the confidence among consumers in the US and in Europe and they will likely hurt the global economy as well if they escalate.
Trades in Sight
Bearish NZD/USD
The intraday trend has turned bearish
Moving Averages are providing resistance
The H1 chart is overbought
The moving averages are clustered together
We opened a sell forex signal a while ago in this pair as it was retracing higher from the decline that we saw yesterday. A bunch of moving averages are providing resistance on top, particularly the 50 SMA (yellow) and besides that, the stochastic indicator is severely overbought on the H1 chart, meaning that this timeframe chart is overbought.
In Conclusion
Ok, the USD has lost some more ground after the durable goods orders report despite the great core number, but it is steady now. Let's just wrap this up and get it posted before Powell starts his speech so we can see if he will take a jab at Trump as well.