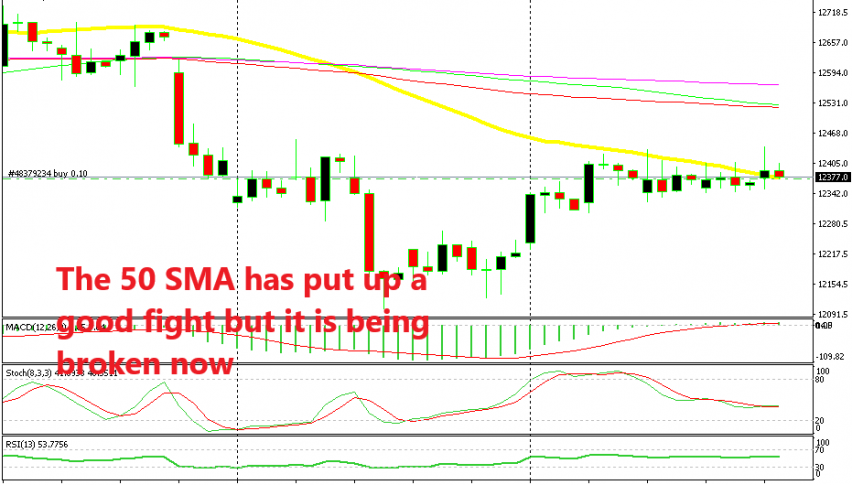 The Epic Fight Between DAX30 Buyers and Moving Averages Continues
Last week we opened a long term buy forex signal in DAX30 as indices were retreating during the major correction which lasted three weeks. DAX was finding it difficult to break below the 100 SMA on the weekly chart so we decided that that was the end of the retrace and went long.
My colleague Arslan also opened a short term buy signal today which closed in profit. But since we are still on a long term trade here, let's see how the price action has been behaving, especially on the top side.
Looking at the H4 chart, we see that the buyers have been battling with the 50 SMA (yellow) all this week. Although, the price has just moved above the 50 SMA, it is not too far from it and, at the moment, it is trying to get back below it.
Let's see who will give up first, the buyers or the 100 SMA
Looking at the H1 chart, we see that the 100 SMA (red) is the one doing the work here. The reverse off the lows was pretty quick, but the 100 SMA has stopped the buyers from pushing higher this week. It has been pierced briefly a few times but without much success. The price has fallen back below pretty fast and this morning was the latest example of that.
All other major indices have been trading in a range this week apart from Nikkei, so there is a resistance which has been formed here. Although, it seems as the lows are getting higher and the price is trading ever closely to the 100 SMA, which means that the pressure is on the top side, so I think that the 100 SMA will be broken soon and the uptrend will resume.