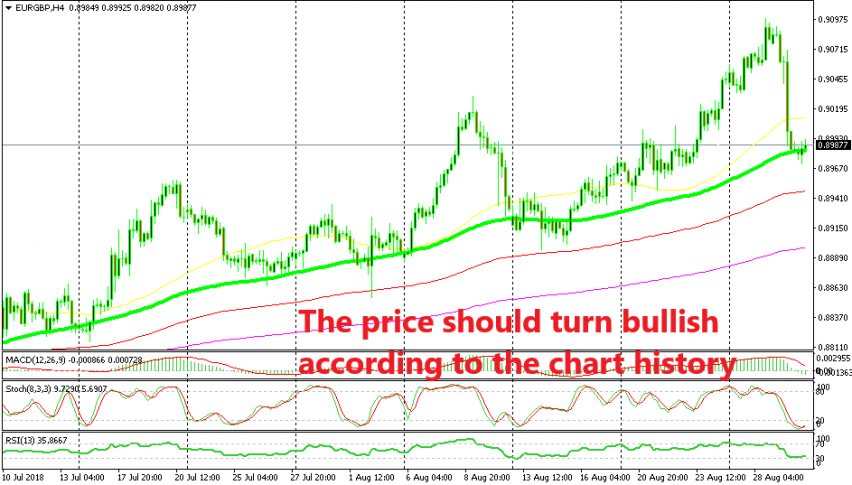 EUR/GBP Meets Uptrend Defining MAs but This Time it's Different
EUR/GBP has been on an uptrend in the last three months. Both the Euro and the GBP have been following the same direction against the USD, but when they were both going down, the GBP was going down a little faster and when they were going up in the last couple of weeks, the GBP was slower to climb.
As a result, EUR/GBP has been going up and moving averages have been keeping the uptrend going. As you can see form the H4 chart above, it has been the 100 SMAs (red and green) which have defined the uptrend here. These moving averages have held the ground when EUR/GBP has retraced down and now the uptrend has resumed again. Now we are in back at the 100 SMA and the stochastic indicator is oversold, which means that the retrace down is complete.
The 20 SMA is holding on well today but for how long?
Switching to the daily chart, we see that the 20 SMA (grey) is the one which has provided support during retraces and pushing the trend up. Again, the price has just touched the 20 SMA this morning, which rejected it at the first attempt.
So, the uptrend should resume soon according to these chart patterns. But, things might have changed for the GBP as the EU's chief Brexit negotiator Michel Barnier said that the EU is willing to give the UK a trade deal like no other country. This marks a major shift in the Brexit rhetoric for the EU, which could mean a Brexit deal soon. So, the GBP might have entered a bullish period which is bearish for EUR/GBP.
It's for this reason that I am hesitating to go long on this forex pair. Both charts look great for a buy forex signal on EUR/GBP, but fundamentals point down for the time being, so until they change, we might stay out of this pair.