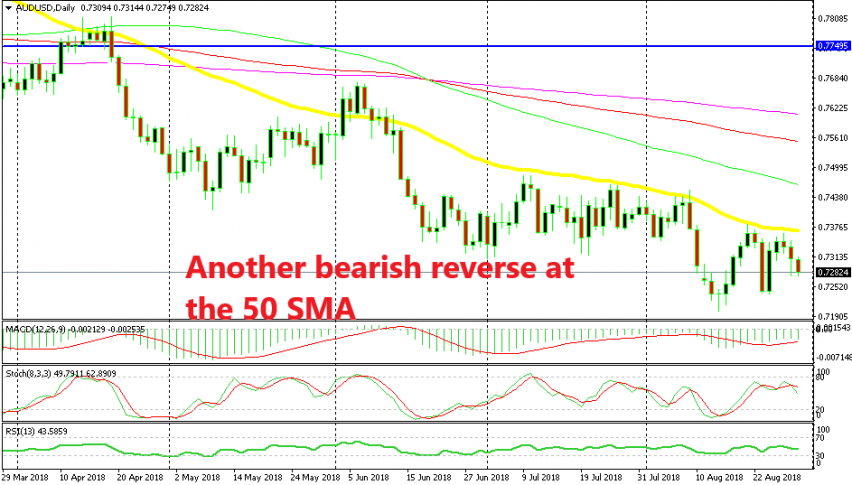 When Technicals and Fundamentals Fall in Line, Again
Pretty often, the technical analysis and the fundamental events go hand in hand very well, more often than you would expect. Right when the price is fighting with a major technical level or indicator, a fundamental event comes along to help the technicals.
We have posted several articles highlighting such events and today we are seeing another of these occasions. In fact, it has been going on for a few days, but today the correlation showed its full force and that happened in AUD/USD.
As you can see from the daily AUD/USD chart above, this pair has been banging its head against the 50 SMA (yellow). This moving average has been providing resistance in the last two months and this Tuesday was the latest time that happened.
AUD/USD couldn't be able to break above the 50 SMA even though the USD has been beaten up badly recently. This was a sign that the technical indicators were putting up a fight, although there was a clear danger for the sellers.
But, the fundamentals came along and gave a hand to the 50 SMA. The Australian Government expelled the Chinese giant Huawai which is might scare off major investors. Yesterday, Westpack increased interest rates which will make it difficult for the RBA to hike interest rates. Today, the capital investments declined by 2.5% so all these fundamental events go against the AUD. Now this pair is around 100 pips lower so the technicals and fundamentals are winning against the market sentiment.