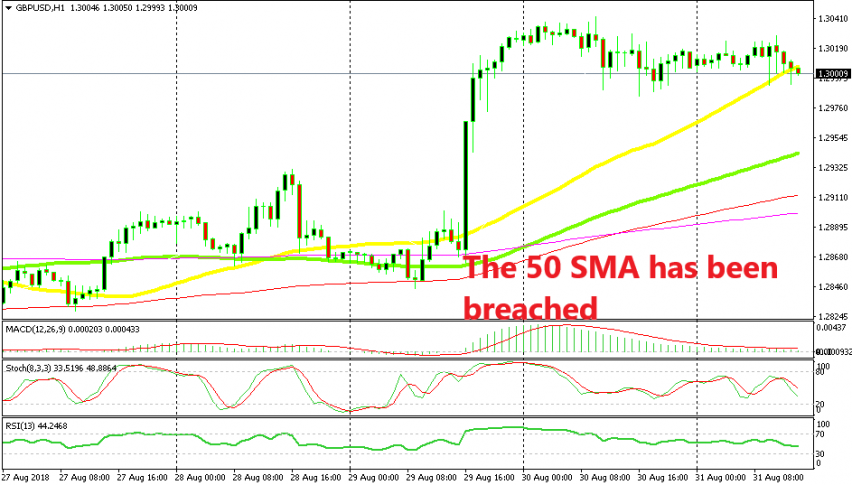 Just When We Bought GBP/USD This Comes Up
Just a while ago we decided to go long on GBP/USD with a short term forex signal. This air was retracing down on the H1 chart after the major bullish move on Wednesday and the price was finding support on the 50 SMA (yellow) while stochastic was almost oversold which means that the pullback is complete.
GBP/USD has been on a slight uptrend in the last two weeks. But, the bullish move on Wednesday came after the EU's Brexit negotiation Michel Barnier said that the EU is willing to give the UK a trade deal unlike any other third country had.
As a result, this pair ended up 170 pips higher that day. It broke above the 1.30 level which was a sign that the buyers were in total control. Today this pair was retracing lower and it was finding support at the 50 SMA so we decided to open a buy signal.
But, right after we opened that signal, more Brexit news hit the wires and the GBP started tumbling lower. The EU spokesperson Winterstein popped up in Brussels saying that the EU quest to avoid a hard Irish border remains undiminished.
This means that no matter how much both sides might want a Brexit deal, if the UK doesn't offer a viable solution for the border issue between Ireland and Northern Ireland, then the deal will be hard to reach and the UK might end up without a deal for Brexit.
GBP/UD has taken a 50 pip dive but the decline has stopped, for now at least. This whole Brexit drama has made it pretty difficult to trade GBP pairs, but we cope, what else can we do?