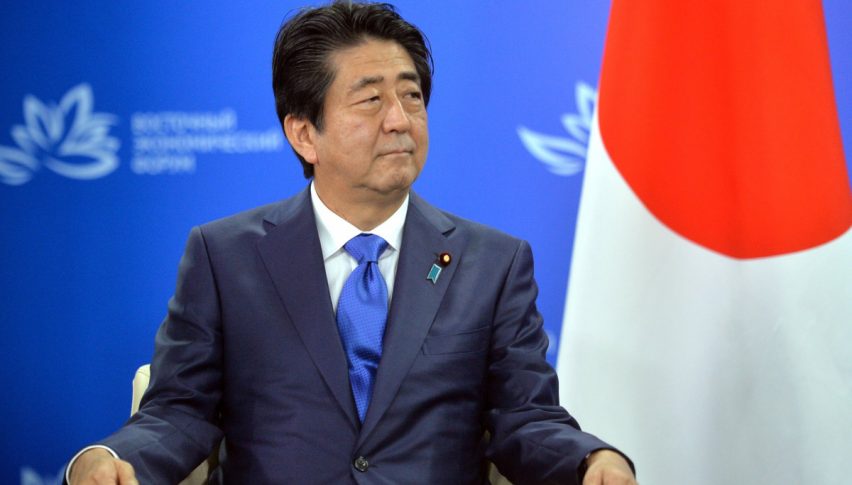 Long USD/JPY After Abe's Comments
The Prime Minister of Japan Shinzo Abe held a speech a short while ago where he spoke mainly on the economy. The Yen recuperated some more pips after having gained some ground early in the morning from Abe's similar comments. Let's have a quick look at some of his most important comments among others.
Monetary policy was implemented because deflation has been going on for two decades in Japan
It's not right to continue forever with such policy
Consumer spending and wage growth is picking up
The economy is in a very good shape
Hopes to reach the exit point during his term
These are some positive comments but not much different from what we have heard recently. This doesn't really change anything, not that he has the power to control the monetary policy and he made it clear during the debate.
Nonetheless, the market finds it comforting when a Japanese official speaks about normalizing the monetary policy. This has sent USD/JPY lower. It has fallen from above 112.00 early in the day to 111.70-80.
The previous resistance is turning into support now
It seems as USD/JPY is heading for a decent retrace lower on the H4 chart, but it has reached this area now. The area around 111.70-111.80 used to be strong resistance during the previous two weeks and now it is supposed to turn into support.
The price has stalled right here so it seems it might work as support. The H1 chart is well oversold so hopefully we will see a bullish reversal soon. After all, it is not like Japanese officials will start tightening the monetary policy tomorrow or next month, not even next year methinks, so the JPY is very much in bearish mode unless the sentiment turns negative, which I hope doesn't happen.