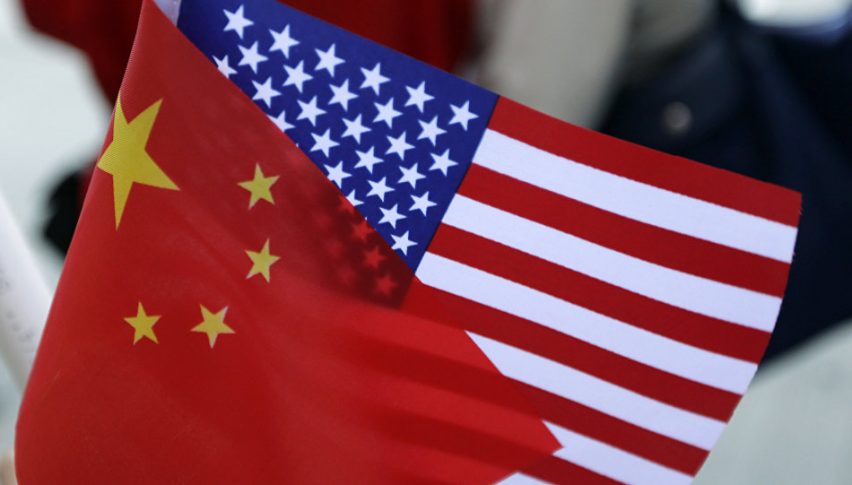 Forex Signals US Session Brief, September 17 – Tariffs Tweet Gets Markets Moving Again
Today was pretty quiet during the Asian session and the beginning of the European session. As a Monday morning, traders were careful to embark on any trades, especially considering the President of the European Central bank (ECB) Mario Draghi will hold two conferences in the next two days and the fact that during the weekend, we heard some news that Donald Trump still wants new tariffs on China.
Today, we got a tweet from the US President praising the tariffs and their positive effect on the US economy. This doesn't exactly mean new tariffs tomorrow, but it is an indication of an escalating trade war. China and the US are to meet on September 20, but China might withdraw if the US administration introduces new tariffs before then. That tweet got the financial markets moving in the last few hours. In Europe, there were Brexit comments coming from all sides over and over again, but nothing is clear. Some officials sound quite optimistic for a good Brexit deal, others not so much.
The European Session
It Is Chequers Plan for May or No Deal At All – The British Prime Minister Theresa May made this announcement early in the European session on the BBC. She will meet with EU leaders on Wednesday in an informal meeting which can go either way. But, she is standing between the EU and her own party, both of which stand apart in this matter.
Italian Finance Minister Confident About Budget Rules – Giovanni Tria commented today that the 2019 budget deficit won't go above 1.6%. But, the two parties that are heading the Italian politics right now want more spending and the citizens' income plan alone stands at 1.55% of the budget deficit. So, until they finalize the budget, we won't know for sure. Nonetheless, Italian stocks jumped on those comments.
China Says That It Will Take Necessary Response if US Puts New Tariffs – China and the US are to have a meeting on trade on September 20. But we heard rumours during the weekend that the US might impose additional tariffs on another $200 billion worth of Chinese goods. China wants to go into this meeting as equals, but not if there are new tariffs.
Italian Trade Balance – The trade balance surplus was expected at 4.82 billion Euros but it came at 5.68 billion. Last month was revised higher as well, so despite political troubles in Italy, the economy is not doing that bad.
Eurozone Final CPI – The inflation report was released today and it came as expected at 2.0%. This is a slight cool off from the 2.1% YoY inflation that we saw last month, but it remains within the ECB range, hence no effect on the Euro.
BUBA Confident on German Economy – The Bundesbank released the report today and they sounded pretty confident. They said that the softening of growth during summer was due to car emissions. Despite that, growth is fundamentally intact for them and they expect it to pick up in the coming months.
The US Session
Trump Hints At More Tariffs? – Donald Trump tweeted earlier today about tariffs. He didn't directly say that he will increase tariffs on China but he did praise tariffs saying that they brought back billion of Dollars and many jobs to the US, while costs have been minimal. This comes ahead of US-China meeting and after rumors over the weekend that Trump will add another $200 billion worth of Chinese products on his tariffs book.
No More Stimulus from the ECB for Vasiliauskas – The Lithuanian member of the ECB said that the slowdown in the Eurozone economy was expected this summer. He added that there won't be any more stimulus as if we didn't know. When is the rate hike coming, Vasiliauskas?
Canadian Home Sales – Home sales increased by 0.9% in Canada in August. House prices rose by 2.5% compared to August last year. Not a major data release but that goes in line with the trend.
US Empire State Manufacturing Index – The US manufacturing index was expected at 23.2 points but came at 19 points, down from 25 points last month. This indicator increased considerably in Spring and it remained around the 25 point level during Summer but it took a dive this month, which is not a good sign, but let's wait for the next month to get a clear idea.
Trades in Sight
Bullish USD/JPY
The trend is up
The retrace down will be complete soon
The 50 SMA is still providing support despite being broken
The 50 SMA is still holding its ground
We didn't go long on USD/JPY this morning when it retraced down to the 50 SMA. The stochastic indicator was oversold and the 50 SMA (yellow) was providing support. Now the price is back here after pulling back lower in the last few hours. The stochastic indicator has been pierced but the price is hanging around it still, so this moving average hasn't been broken yet. The Dollar is under a bit of pressure now, but the market sentiment remains positive, so we should see a bullish reversal soon.
In Conclusion
The markets started moving after Donald Trump tweeted about how great tariffs are working for the US economy. As we said, the deficit with China has been growing to record highs this year, so it is the US consumers which are paying more. Anyhow, we will see in the next week or so if there will be new tariffs on China.