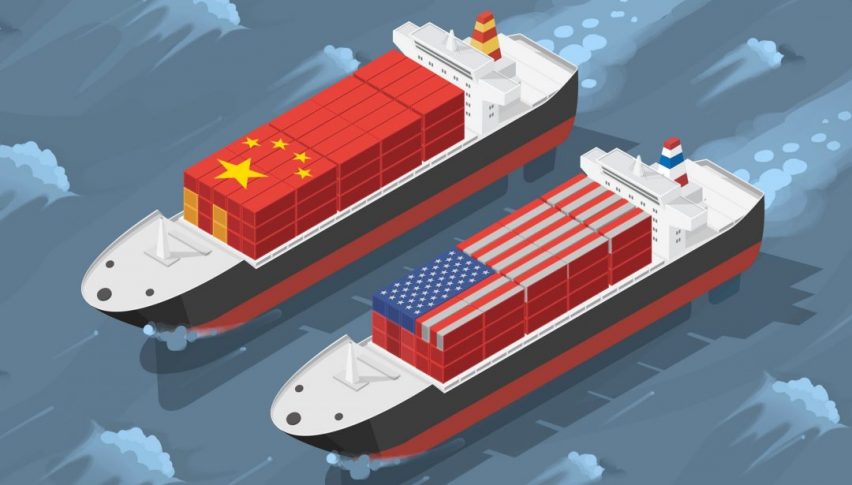 Forex Signals US Session Brief, September 18 – Markets Stay Calm As US Hits China With $200 Billion of Tariffs
The US administration has officially imposed tariffs on another batch of Chinese goods worth $200 billion this time, in addition to the $50 billion already in place. The trade war rhetoric calmed down in the last couple of months as China and the US agreed to negotiate on trade. But late last week, we heard rumours that the US might go ahead with more tariffs on China and it wasn't a coincidence.
Last night, Donald Trump's administration introduced the new round of tariffs which will start at 10% and go up to 25% by the end of the year. The statement that came with the tariffs said that the US administration doesn't want to constrain China's growth and development, it only wants to change China's attitude. There was a meeting planned between the US and China this weekend which I don't think is going to happen.
The Chinese have replied by saying that they will retaliate, but it won't all be in a similar fashion because China doesn't import more than $150 billion from the US, so it will have to come either by devaluing the Yuan or by trying to prevent/make it difficult for US companies to do business in China, which already has a massive market.
The European Session
UK Already Made Major Compromises for Raab – UK Brexit secretary said that the UK has already made major compromises and there is a good chance of a Brexit deal, but the EU must see it that way as well. He added that if there is no deal, there could be short term tremor. He was very confident a few days ago, but now we see once again that nothing has been decided. There's no solution on the Irish border yet, so it seems that Raab has just been trying to be positive about all this.
US Imposes Tariffs on $200 Billion of Chinese Goods – Donald Trump went ahead with more tariffs on China. This batch is worth $200 billion worth of Chinese exports. The Chinese have been trying to negotiate but it seems that negotiations will fall apart now. The market has taken them quite well, apart from a small spike in safe havens early in the morning.
China Replies to New Tariffs – Chinese officials commented on the US tariffs today saying that they will levy retaliatory measures simultaneously but didn't give any details. It is difficult to keep the tit-for-tat retaliation when you have a massive surplus on your side. They said that unilateral trade actions cannot be accepted and the US has not been sincere.
EU Ministers Hope for a Brexit Deal by November – German and Austrian ministers said today that no one wants to punish the UK, but the EU is clear on its position and it's up to Britain to find a way to deal with the EU. They also touched the Irish border issue saying that more should be done to solve it, so there you go Raab. They added that they won't issue a statement on Brexit after tomorrow's meeting in Salzburg.
Draghi's Speech – The ECB president Mario Draghi held a speech in Paris today but he didn't touch the monetary policy, so no action in the Euro. He is speaking in Germany tomorrow, so maybe he will give us some clues then.
Oil Jumps on Comments From Saudis – Crude Oil is 150 pips up today after Saudi Arabia said that they like London Brent Crude at $80. Brent is at around $78 now. Not much detail, but Oil buyers jumped on the news and pushed Oil prices higher.
The EU Doesn't Agree With US Tariffs – EU Trade Commissioner said that this is an unfortunate escalation and that trade wars are not good. Let's see how it will go when the auto tariffs probe is completed in several months.
The US Session
Trump Tweets on China – Donald Trump tweeted earlier today saying that China is trying to affect US midterm elections by targeting US farmers and industrial workers. He said that they are patriots and loyal to him, but if China tries to retaliate on them, then he will retaliate back. Let's see the details of Chinese response first.
No More Stimulus from the ECB for Vasiliauskas – The Lithuanian member of the ECB said that the slowdown in the Eurozone economy was expected this summer. He added that there won't be any more stimulus, as if we didn't know. When is the rate hike coming, Vasiliauskas?
China Responds – China said to impose tariffs on $60 billion of US goods as of September 24. Tariffs will be on more than 5,000 US products and will vary between 5% and 10%. At last we have some details, but I'm sure this is not all, they will surely try to weaken the Yuan. On the other hand, the US consumers have increased demand for Chinese goods this year despite tariffs.
Canadian Manufacturing Sales MoM – Manufacturing sales increased by 0.89% in Canada in August, which is slightly below expectations at 1.0%. Last month's number was revised higher to 1.3% from 1.1%, so this is a good report overall.
New Zealand GDT Price Index – The global dairy trade auction will be held today. We have seen a decline in four out of the last five months, so it remains to be seen how it will affect the NZD if we see another negative number today.
Trades in Sight
Bearish EUR/CHF
The trend is bearish
The retrace up is almost complete
The previous candlestick formed a doji
The last two candlestick point to a bearish reversal
We just went short on EUR/CHF as this pair has been trying to retrace higher in the last few hours, fuelled by the bullish move in the Euro. Although, now it seems as the retrace higher is almost complete as the stochastic indicator shows. The previous H1 candlestick closed as a doji, which is a bearish reversal signal after the bullish move. We also have the 100 SMA (green) standing above which is likely to provide resistance.
In Conclusion
The trade war is escalating as the US increased the Chinese products being targeted by tariffs to $250 billion so far. We have to see what measures China will take besides placing tariffs on an additional $60 billion of US goods. This is not good for global trade, but perhaps China will back down and accept some of its own faults.