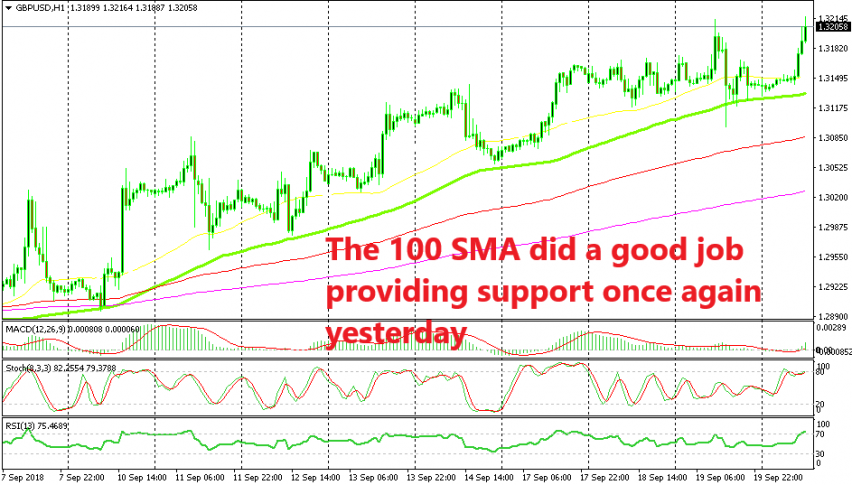 GBP Finds Bids From Economic Numbers Despite the Brexit Fuss
Posted Thursday, September 20, 2018 by
Skerdian Meta
• 1 min read
The situation regarding Brexit is still very blurry. We get positive comments from both sides suggesting that a deal is almost done, only to hear more comments in the next few hours that make the deal look as far away as it can be.
So, GBP trades are pretty confused by that. But the economic data has provided something to hang on to for GBP buyers. In the last two days we have seen some positive economic reports which have made the GBP more attractive despite all the fuss from Brexit.
Yesterday, CPI (consumer price index) inflation jumped two points higher to 2.7% from 2.5%. that came as a bit of a surprise since inflation has been cooling off in Britain since the beginning of the year when it was at around 3%.
Today, the retail sales report was pretty upbeat as well. Sales were expected to have declined in August by 0.2% but instead, they grew by 0.3%. Last month's number was pretty good but it was revised higher to 0.9% from 0.7% previously.
Yesterday, GBP/USD jumped 70 pips higher on the inflation report, but Brexit news was quick to turn the GBP bearish and reverse the GBP/USD lower. Today, this forex pair is 70 pips higher once again and it is threatening yesterday's highs. This is the highest level in the last two months for GBP/USD, so let's see if it will make new highs or whether it will reverse back down.