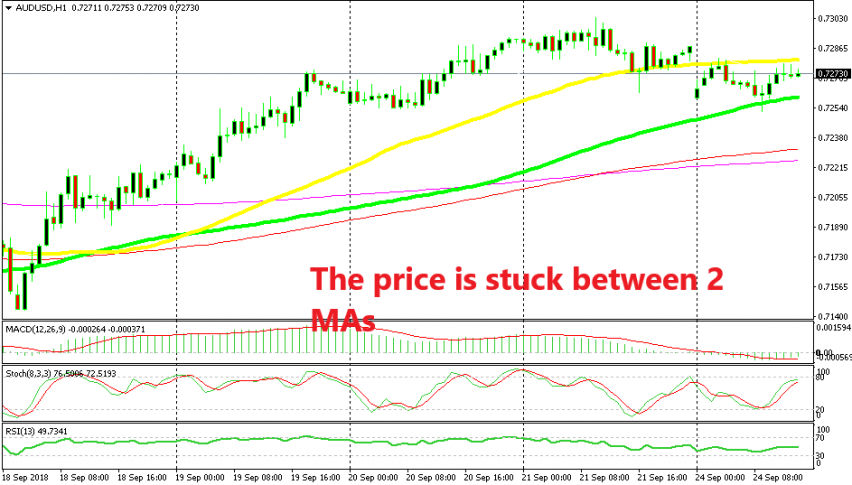 AUD/USD Stuck Between two Moving Averages
Commodity currencies have been on a bullish trend against the USD in the last two weeks and AUD/USD has followed that uptrend strictly. Although last Friday, the USD claimed back some of the losses so major currencies ended the day on the decline against the Buck.
AUD/USD retraced lower but it found support at the 50 SMA (yellow) and ended the day only 25 pips off the highs. But the retrace down continued this morning, as this forex pair opened with a 30 pips gap lower this morning.
As you see from the H1 chart above, AUD/USD slipped below the 50 SMA this morning and it has been stuck in between since then. Buyers tried to push back up above the 50 SMA in the first few hours of the morning but they failed and the price reversed down to the 100 SMA (green). It found support at that moving average and the buyers had one more try in the last few hours, but it seems as they are failing to break above it again as the last few candlesticks suggest.
The 100 SMA has been providing support since Tuesday last week
If you switch to the H4 chart, you can see that the price reversed right at the 100 smooth MA (red), so that's the major support level in this pair for now. It stands at 0.7250 which makes this level the line in the sand, since the 100 simple MA also comes at this level on the H1 chart. Right now, it is a fight between bears and bulls, so there is no clear direction unless one of the two moving averages break on the H1 chart.
AUD/USD has been making strong gains this week, with the RBA helping the bullish case, but buyers are facing the 200 daily SMA now
3 days ago