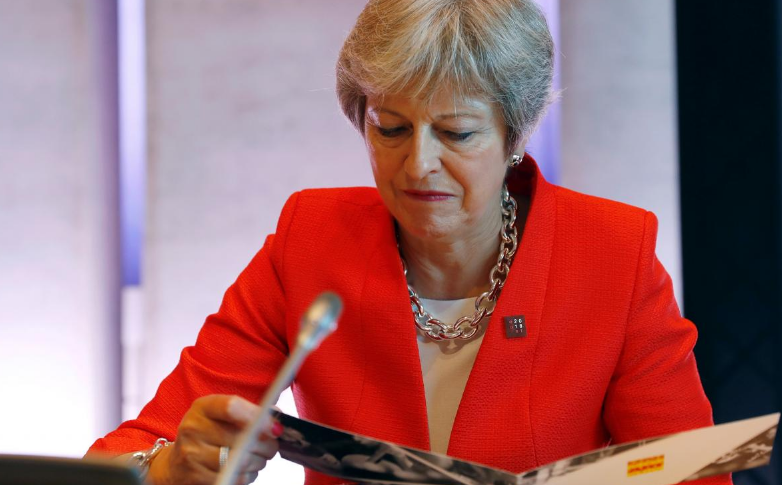 Forex Signals US Session Brief, September 24 – GBP Recuperates As A Brexit Deal Is Not Dead Yet
Today the markets were a bit hungover from last week's fallout over the Chequers Brexit plan that the UK Prime Minister Theresa May had so much hope on.  The GBP lost around 250 pips last Friday, which pulled EUR/USD down as well, since the Euro is also involved in the Brexit process. Today we heard some news from the UK that the British parliament wants to go forward with a Canada-style trade deal.  The UK Brexit Secretary Dominic Raab tried to sound optimistic for a good deal, but we have heard him say the same thing many times before.
The GBP is trying to see the positive side of things and it has shaken off some of the negativity from last Friday, climbing around 100 pips higher so far against the USD. In the US session, the President of the European Central Bank, Mario Draghi, seems to be taking all the attention as he is testifying at the European Parliament about the economy and inflation. He is sounding quite optimistic about the domestic economy and inflation, and despite mentioning the turmoil in emerging markets, his speech leans more on the positive side. The Euro has rallied around 50-60 pips so far. The UN meeting is also taking place today and Donald Trump is expected to make things interesting, but let's see if his comments will move the financial markets later in the evening.
The European Session
May's Cabinet Supports Canada Style Brexit Deal – There was a report on The Guardian today that Theresa May's cabinet supports a trade deal like the one that Canada has with the EU. It is likely to exclude services and leave Northern Ireland within the EU. It will be a tough one to swallow for May.
Silent Majority in UK Wants to Push Ahead with Brexit, Says Raab – Dominic Raab said early that ending up with no deal is not an easy walk in the park but he is confident about a Brexit deal. He added that the silent majority in UK wants to push ahead with Brexit. I'm not sure about both points; it looks increasingly likely that Britain might end up with no deal and the silent majority might have changed its mind in the UK.
German Ifo Business Climate – The business climate index in Germany jumped two full points higher last month and it was revised even higher today. Today, this index was expected to cool off at 103.2 points, but it beat expectations coming at 103.7 points. It seems that the business climate has improved since the US auto tariffs have been put off for the time being.
Big Statement From UK PM May – More rumours about Brexit this morning saying that Theresa May was about to give a big statement on Brexit. This was the third sign that the Chequers Plan was out the window. Her office quickly denied the big statement rumour, but the market got the idea.
Oil Prices Will Surge on Iran Sanctions Says, Well Iran – Iranian energy officials said today that other OPEC producers can't make up for Iran Oil after sanctions, and that they will have to tap on their reserves. He also added that prices will surge in the long term. They are already increasing.
The US Session
No EU Summit on Brexit in November for Macron – French Prime Minister Emanuel Macron commented on the issue as the US session started that Brexit talks should not drag on to November. We heard rumors in the morning that Macron would boycott the November meeting and in fact, it doesn't make much sense. If there is no agreement until then, it is almost certain there won't be any changes in November.
Progress has been made on Budget Deficit for Conte – The Italian Prime Minister Conte said after the government meeting today that progress has been made on this important issue. This goes in line with earlier comments from Salvini's party Lega Nord economic adviser who said that a 2.55 deficit would be credible and leaving the Euro would be out of the question. Let's hope they reach an accord.
Bexit Negotiation to Get Tougher Towards the End for May – Well, NSS. We all know that these sorts of negotiations get pretty nasty towards the deadline, but we must cope with it, especially when trading the GBP. It has become pretty tough to trade all the headlines and it is expected to get even crazier in the next couple of months.
Canadian Wholesale Sales MoM – Wholesale sales jumped by 1.5% after the surprise decline by 0.95 that we saw last month. This month's jump more than makes up for last month's decline, so we are back on the uptrend.
Belgian Business Climate – The business climate index rose to 1.2 points this month against -0.5 expected and up from last month's 0.3% decline. Just like in Germany, the business climate improved strongly this month
ECB President Draghi Speaks – The ECB president testified in front of the European Parliament a while ago, which we covered in the economic calendar and he sounded pretty hawkish. Inflation is increasing and the labour market is tightening. The Euro jumped 50 pips higher on these comments.
UN Meeting – The UN meeting which will last all week starts today. I don't know if US President Donald Trump will speak today, but if he does, it is likely that markets might go crazy for some time, so we must keep an eye on it.
Trades in Sight
Bearish GBP/USD
The trend turned bearish last Friday
The retrace up is complete
The previous candlestick is pointing to a bearish reversal
The 100 SMA is providing resistance
The 100 SMA is providing solid resistance
We just opened another sell signal in GBP/USD. This pair reversed to bearish last Friday after the Chequers plan failed, but it has retraced higher today. Although, the retrace seems complete now as stochastic is oversold on the H1 chart. The 100 SMA (green) is also providing solid resistance on top, helped by the 50 SMA (yellow) as well. The previous candlestick closed as an upside-down hammer which is another reversing signal.
In Conclusion
OK, the GBP/USD signal just hit take profit now as this pair started to reverse. We have had some nice price action today, but the major event might still be coming as the UN meeting gets underway. If Donald Trump speaks today, then financial markets will take notice, otherwise, we will wait for his speech as the week gets underway.
A stronger dollar was holding crude oil prices in line because of its negative correlation with commodities. How it's likely to trade today?
3 days ago