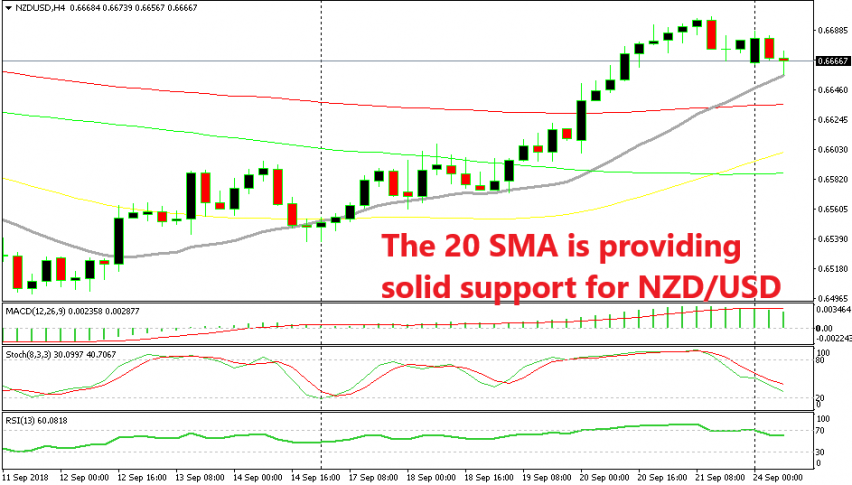 Major Pairs Bouncing Off Moving Averages
In the Asian session today, major forex pairs have been slipping lower as I can see from a quick glance of my forex platform. The USD closed the week last Friday climbing up. It had been on a strong bearish trend the whole week, but it claimed some of the losses back on Friday.
That same price action followed in the Tokyo session today as the new week started. But, that move is over now as we see a turnaround in most forex pairs. So, we can say that the move on Friday was just a retrace of the bigger bearish move that we saw last week.
Today in the European session, the major pairs started reversing right at certain moving averages on the different chart time frames. AUD/USD found support at the 100 SMA (green) on the H1 chart, NZD/USD where we have an open buy forex signal found support at the 20 SMA on the H4 chart. Although, this pair is not climbing higher as much as other pairs, which is something to keep in mind.
Even GBP/USD which lost more than 200 pips last Friday found support at the 200 SMA on the H1 chart and is now reversing higher. But, the situation is different on this pair as Theresa May's Chequers plan was rejected by the EU, so we will have a deeper look on this pair soon.
EUR/USD should break below 1.06 this week with the business climate and inflation softening further in September
19 mins ago