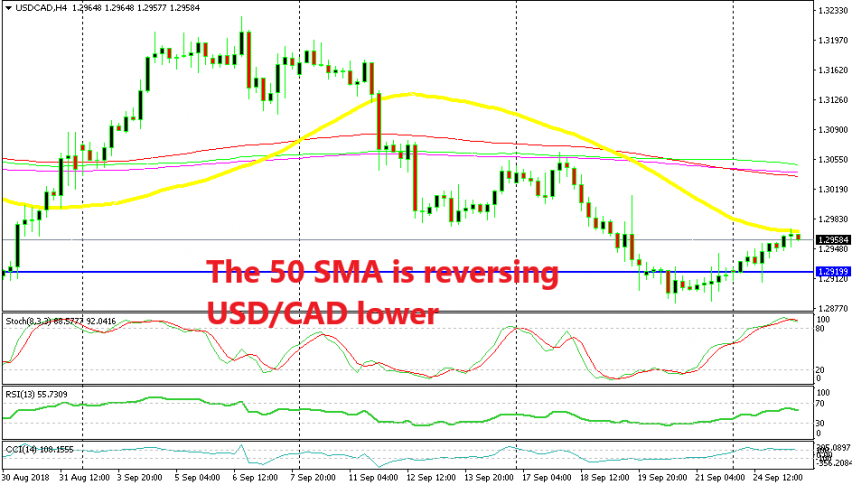 Shorting USD/CAD on Technicals and Fundamentals
Technicals
USD/CAD has been on a bearish trend in the last 2-3 weeks. The downtrend has evolved in waves as they usually do. This pair completed the first bearish wave about two weeks ago, then it retraced higher until a week ago but the 100 (green) and the 200 (purple) MAs capped the retrace, and the second wave of the downtrend started.
The second bearish wave ended late last week and since then, USD/CAD has been retracing higher. But now, this retrace might be over. The price is finding resistance at another moving average, the 50 SMA (yellow) on the H4 chart. The stochastic indicator is well overbought and it is turning down now, which means that the retrace is complete. Besides that, the previous candlestick formed a doji which is another reversing signal.
Fundamentals
Crude Oil has been on a straight uptrend, especially in the last week. The US sanctions on Iran which are supposed to come into practice in November are pushing the prices up already. Iran doesn't want other OPEC members taking up its quotas but even so, it would be a bit hard for other members to increase production just like that.
Venezuela, which is a major holder of Oil reserves, is in major economic trouble and the production has declined drastically. Besides, the world economy is doing OK now, meaning that demand for Oil has increased.
Donald Trump has just tweeted now that he is not meeting with the Iranian president, so the US is going to go ahead with sanctions then. Oil prices are almost 1% higher today and Brent crude is trading above $82 while WTI crude Oil is trading above $72/barrel. So, we decided to sell USD/CAD and it seems to be going alright so far as the commodity dollars are gaining some momentum.
Yesterday the FED delivered a hawkish pause with the DOT Plot pointing to more rate hikes, today the SNB and the BOE should hike by 25 bps
4 days ago