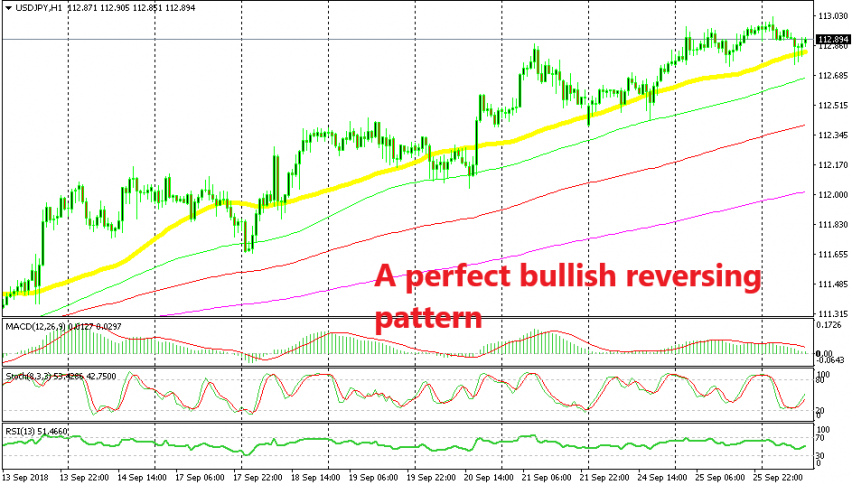 Going Long USD/JPY As the Retrace Down Completes
Posted Wednesday, September 26, 2018 by
Skerdian Meta
• 2 min read
USD/JPY has been trading in a bullish trend since the beginning of the second week of September. Trading this forex pair has been pretty easy since the price action has been quite easy to read, all we had to do is wait for a retrace down and then go long.
As we can see from the picture above, retraces have ended either at the 50 SMA (yellow) or the 100 SMA (green). At the same time, stochastic has been oversold which indicates that the retrace is over and the bullish trend is about to resume. If you get a pin, a hammer or doji candlestick at the same time, then the chances of a bullish reversal are even higher.
Yesterday I spotted one such chart setup on the H1 time frame. USD/JPY retraced lower during the European session and formed a hammer above the 50 SMA The stochastic indicator wasn't oversold yet but that was enough for the bulls to get in and resume the uptrend in this pair.
Today another retrace took place during the Asian session and we decided to go long a while ago. The price broke above 113 early in the Asian session but turned bearish quickly after it and retraced lower, reaching the 50 SMA (yellow) a few hours ago.
The 50 SMA did a good job providing support once again. It was pierced a couple of times but eventually all H1 candlesticks closed above it, which means that it wasn't officially broken. Stochastic became well oversold and the price formed a doji candlestick.
This was a clear sign that the retrace was over so we decided to go long. The bullish move is taking some time but we are around 10 pips in profit already, so this forex trade looks good. Now, let's wait for it to start rolling higher.