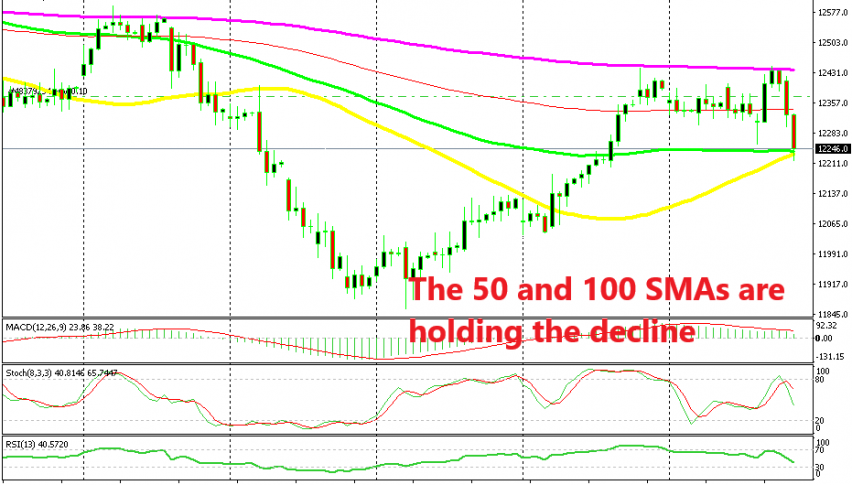 Finally Getting A Trade in DAX
If you have been following us, you must have noticed a couple of updates recently about DAX30. DAX has been trading in a range for more than a week where the bottom of the range has been somewhere around the 100 SMA (red) which was broken yesterday. Although this moving average was broken yesterday, the price moved back above it, within the range.
The top of the range has been defined by the 200 SMA (purple) on the H4 chart. This morning, European stocks and indices have been a bit bearish. That's for two reasons; the market sentiment is a bit negative today as the demand for safe haven currencies and the weakness in risk currencies shows. The other reason is the Italian budget deficit issue, which is sending Italian bond yields higher.
DAX is still sliding and has approached the bottom of the range. Considering that the situation with the Italian budget deficit has not that aggravated yet, we decided to use this opportunity to open a buy forex signal in DAX.
We missed a really good opportunity yesterday. As you see, DAX formed a doji on the H4 chart and after that, we saw two bullish candlesticks which took the price at the top of the range. Well, we decided to get in today as DAX and other indices are sliding lower. Now we hope to see another bullish reverse. But, the decline must stop first, so fingers crossed.
Alright, indices have just completed another lap down and have slid as low as 12,217. Our first signal here got smoked, but we just opened another buy signal as DAX is finding support at the 50 SMA (yellow) and 100 SMA (green).
This entry price is much better and the winning potential is greater. Besides, the stochastic indicator will be oversold once this hourly candlestick closes. The price is already pulling back up now, so let's give it some time.