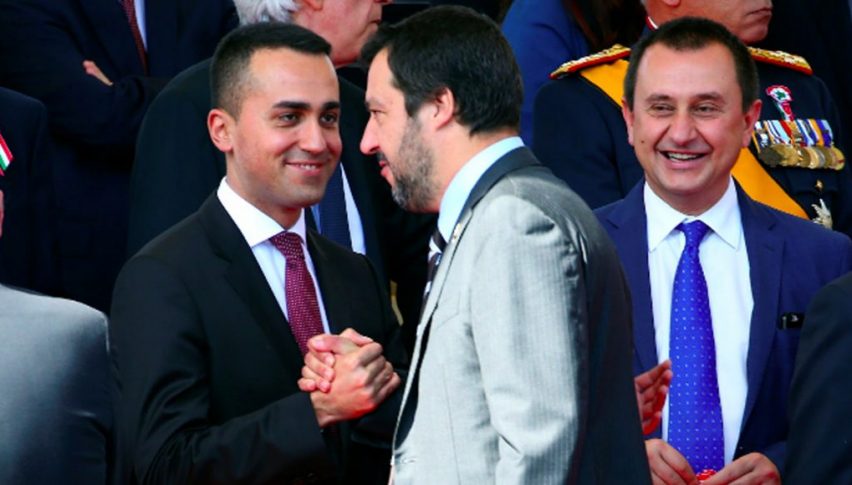 Forex Signals US Session Brief, September 28 – Risk Currencies and Stocks Decline As Market Sentiment Deteriorates
The situation in Italy regarding the budget deficit is getting investors scared today. They have been trying to ignore it and be optimistic in recent weeks and the stock markets have been rallying as political leaders in Italy have stressed many times that investors don't have to worry about the deficit. But today, everyone is getting cold feet as the deadline for the budget proposal which will go to the EU approaches. EU's affairs minister Moscovici commented early today that Italy must cut its explosive debt which stands at 130% of the GDP and that rules must be respected.
Italy is not breaking any rules since they are aiming for a 2.4% deficit in this budget, which includes the citizens' income plan. Italian deputy Prime Minister Di Maio added that he is not worried about the market reaction and he will meet with investors soon to calm things down. But, his countryman politician who is the President of the European parliament, Tajani added more fuel to the panic saying that Italy's budget plan goes against the people and it will cause trouble to Italian savings. All these are weighing on European indices, particularly on Italian bank stocks. To round it all up, Salvini popped up a while ago saying that Italy's rights come before bureaucrats in the EU. The Euro is also very much on the slide today as worries from Italy and a decline in core inflation has pushed it nearly 100 pips lower against the USD.
The European Session
Italy's Moscovici on Italian Budget – The EU affairs Minister was the first to comment on Italian debt/GDP today saying that Italy must cut its explosive debt and respect the rules, which they are not breaking as we explained above.
Spain GDP – The Q2 final GDP reading showed that the economy grew by 0.6% as expected, but the year-on-year GDP came at 2.5%, down from 2.7% previously. Not welcomed by markets when the Euro is already sliding fast.
ECB's Lane on Interest Rates – The ECB member Lane said today that next summer we will see a more precise debate on rate hikes. He adds that inflation pressure isn't that strong right now. So, low inflation and no rate hike debate until next summer. Two dovish remarks from Lane.
UK Final GDP and Current Account Balance– The final reading for the Q2 GDP came at 0.4% as expected but the year-on-year GDP was revised lower to 1.2% from 1.3% previously. The current account deficit increased to -£20.3 billion. Business investment also declined by 0.7%, so this was a negative round of data for the GBP.
DI Maio is Not Worried by Market Reactions – Italian deputy PM Di Maio said that he will meet with investors soon, but he is not worried by the market's reaction. Well, we are as forex traders, damn it, so stop that. He added that markets will come to terms with the current budget and it will help growth, which will help pay off debt.
Eurozone Inflation – The CPI (consumer price index) inflation came at 2.1% as last month, but core inflation fell back below 1%, coming at 0.9% when it was expected to come at 1.1%. The German inflation was pretty upbeat yesterday, but the decline in French and Italian CPI numbers have hurt the overall inflation in the Eurozone.
EU's Tajani is Concerned About Italy's Budget – The president of the European Parliament Tajani commented on the issue saying that Italy's budget goes against the people, it won't raise employment, and it will cause trouble for Italian savers. Well, the citizens' income surely goes in favour of the people, Mr Bureaucrat, and it has proven to help the economy in Spain and Portugal. Besides, it is still well below the 3% ceiling, so I don't get all the fuss in the stock markets.
The US Session
Italy's Salvini Stands Up for the People – The Italian interior minister and the leader of the Lega Nord said that the interest of Italian citizens comes before the EU bureaucrats. He said "Enough now!" to threats from EU bureaucrats. Italy's rights to jobs and pensions comes first and he is not pleased with an EU which threatens to place Italy under its control. Those comments have the indices and stocks pushed down, which have just stalled at the moment.
Canadian GDP – The monthly GDP came at 0.2% in Canada aginst 0.1% expected and up from 0.0% last month. The yearly GDP remained unchanged at 2.4% against an expected decline to 2.2%. Although, we saw this coming since wholesales inventories jumped by 1.5% on Monday.
US Core Price Index – The US core price index was expected to decline to 0.1% after growing by 0.2% in the last several months. But, prices remained flat at 0.0% which is not a good sign for the FED.
US Personal Spending – The growth in personal spending ticked lower to 0.3% as expected, down from 0.4% last month, but it is still stable.
US Personal Income – The pace of growth for personal income in the US used to be 0.4% in May and June, but in July it cooled off to 0.3%. This month, it was expected to get back to 0.4% but it missed expectations and remained at 0.3% again.
US Chicago PMI – The Chicago PMI index which measures the economic health jumped above 60 points in May. It has remained above there since then but today it is expected to cool off a little to 62.3 points from 63.6 points last month.
Revised US UoM Consumer Confidence – The consumer confidence has cooled off a little in the last two months, but it is expected to jump above the 100 level today, which would give the USD another boost, but let's see the report first.
Trades in Sight
Bearish AUD/USD
The trend has turned bearish this week
The 50 SMA is catching up with the price
The 100 and 200 SMAs are waiting to provide resistance
The retrace seems very weak
M0ving averages have turned into resistance now
AUD/USD has turned pretty bearish this week as did all other risk currencies. Today though, we are seeing a bullish retrace higher which seems pretty weak to me. The stochastic indicator is almost overbought and the price is still some distance away from the batch of moving averages. These moving averages have turned into resistance now that they have been broken. The 50 SMA (yellow) is quickly catching up, so once it reaches the price, we will try to open a sell forex signal in this pair.
In Conclusion
The stock market had a little period of panic today as Italian worries hurt the market sentiment. The Euro has been beaten down pretty bad as well. The USD is in strong demand but the CAD is seeing even stronger bids on the back of positive GDP numbers today, but it might change soon as the price action is showing now, so hang around for more updates guys.