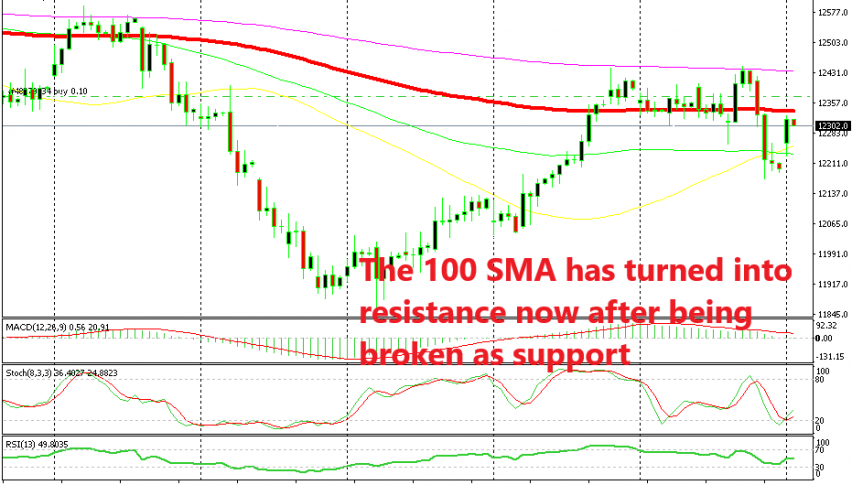 Support Turns Into Resistance for DAX30 As Stocks Recover After the Small Crash on Friday
Stock markets went through a period of panic at the end of last week. The Italian leaders made their intentions known as they showed that the Italian budget deficit was going to be somewhere around 2.4%.
The EU doesn't like that much deficit when it comes to Italy, even though the rules are for a 3% ceiling. But, the Italian debt stands at 130% of the country's GDP which is very high and second only to Greece. So, the market panicked and stocks started falling like stones on Friday.
We opened a buy signal in CAC, which we just closed in profit, and another in DAX30, which is still open. The decline stopped late on Friday, and this morning, indices opened with a gap higher. They have been climbing up during the Asian session and for most of the European session.
DAX30 has recuperated a lot of ground today, but the previous support area seems to have turned into resistance now. The 100 SMA (red) on the H4 chart used to work as support for DAX with the area around it working as buffer zone.
The bottom of the range was at around 12,300 which is now providing resistance for DAX30. There was a piece published on the Italian newspaper La Repubblica which said that the European Commission is not going to accept the budget proposal from Italy, but stocks have been bullish today nonetheless.
But, this resistance level still stands for DAX. We are nearly 100 points up with our DAX signal now and stochastic is pointing up after being oversold, but we have to break the 100 SMA if the bullish trend is to stretch further up.