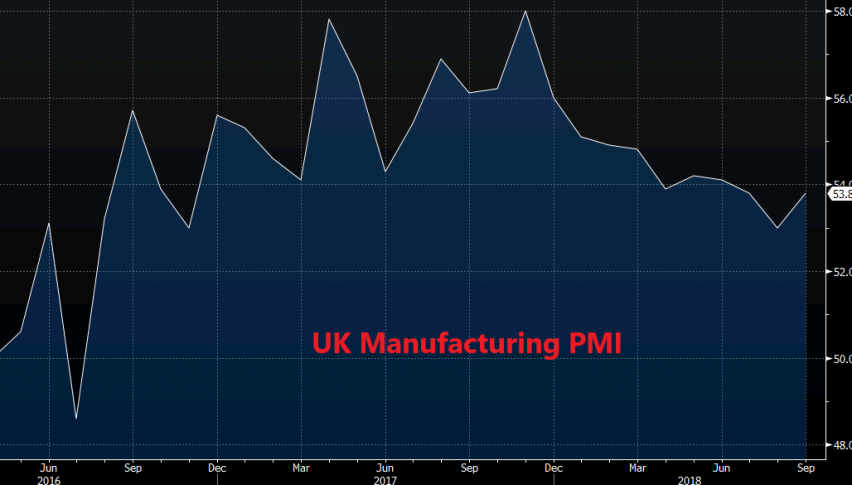 UK Manufacturing Reverses Higher but the Trend Is Still Bearish
The UK manufacturing report in September showed a decline to 52.8 PMI points. That came as a bit of a surprise after manufacturing had been holding steady at around 54 points for several months during most of the summer and the previous months.
Although, it wasn't that unexpected considering that reports from other sectors of the British economy showed a sharp decline as well in recent months. The main reason for that dovish turnaround is the Brexit process of course, which now seems like it is heading towards a dead end.
Anyway, today this report jumped higher to 53.8 points against 52.6 expected and the previous month was revised higher as well to 53 points from 52.8 previously. This shows that the manufacturing sector is not in a very bad place but the Brexit process is a headache for it nonetheless.
Export orders increased after the decline in August and the manufacturing output increased to the highest in four months, but the survey pointed out that manufacturers noticed the Brexit fallout, so we might see some increased weakness in the coming months.
Additional Economic Numbers
UK mortgage approvals 66.4k against 64.5k expected
Net consumer credit £1B against £1.3B expected
Net lending £9B against £3.5B
M4 money supply MoM 0.2% against 0.9% expected
M4 money supply MoM 1.2% against 2.1% expected
The lending and the money supply numbers are all softer than expectations. The supply side has shrank as the M4 money supply numbers show, but the demand should have decreased as well. Overall, the lending and mortgage figures lean on the soft side. The GBP declined for a few minutes but is back to unchanged now. We just sold GBP/USD a short while ago after this report.