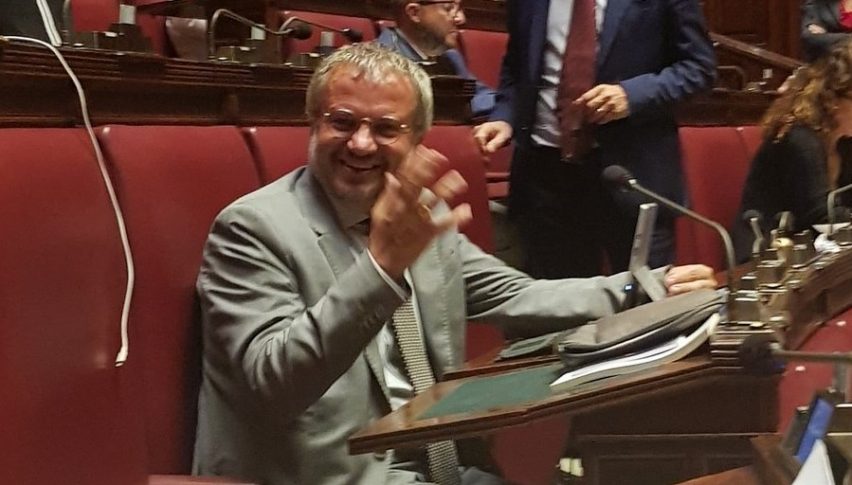 Forex Signals US Session Brief, October 2 – Markets in Panic Mode Again As Italian Budget Worries Resurface
Once again, the Italian deficit worries for next year's budget come to markets' attention as sentiment turns sour in financial markets. We saw most markets decline sharply last Friday as the deficit for next year's budget was made public by Italian politicians. The deficit is supposed to be at 2.4% of the GDP which is below EU's 3% ceiling, but since the Italian national debt stands at around 130% of the GDP, the EU is sceptical about that. Yesterday the markets were pretty calm and the sentiment was positive, so safe haven assets were sold off.But we knew it wasn't over yet. The budget plan will be finalized today and then it will be sent to the European Commission for approval on October 15, but from what we are hearing today, neither side seems to back down. Italian politicians are standing firm for a 2.4% fiscal deficit which includes citizens' income plan, while EU and ECB officials are all standing against it. Not sure how this will end but it has hurt the sentiment and stock markets have been bearish during most of the European session. Brexit rumours are helping reduce the negative sentiment for once as Theresa May said that the UK will bring forward proposals on the Irish border that work. Although, she is sticking to the Chequers plan, so the market has been taking her comments with pinch of salt, since we have heard them before.
The European Session
Italy Would Solve Most of the Problems If It Had Its Own Currency for Borghi – The head of the budget committee at the Lower House Borghi shook the markets this morning with these comments. But he tried to calm things down when he added that if Italy wanted to open problems, it would raise the deficit to 3.1% which is above the EU limit. He popped up again later on saying that a 2.4% deficit is not a revolutionary move and that Italy is more cautious than France. He also added that laving the Euro is out of the question. But, the damage has already been done in financial markets.
Di Maio Says That Government Won't Change the 2.4% Deficit Target – The Italian deputy Prime Minister commented today on the 2019-2021 budget which will be finalized today. He said that the budget favours growth and doesn't believe that there is an EU plot against Italy. Someone must have raised this question, so who might it be?
May Says UK Working on A Good Brexit Deal – Theresa May appeared a couple of times today saying that they are still working on a good Brexit deal and that the UK will bring forward proposals. But, she is still sticking to her Chequers plan which has been turned down from the EU and she added that general elections are not in national interest now.
UK Construction PMI – The construction sector has been steady in the UK recently apart from a jump in July. Although it returned to the trend in August, this month it fell below the recent trend. The construction PMI number was expected to come at 52.8 points but came at 52.1 points, which gave the GBP another push lower.
Italy to Ask for Damages Form the EU – Italy's Interior Minister Salvini said earlier today that Italy is ready to ask the EU for compensation from damages of upsetting the markets. They are trying to intimidate the EU into accepting the budget, but at the same time, Italy is well within the EU deficit target of 3% and the Italian bonds have been surging on the budget fuss from the EU, so he has a point.
European Officials Against Italian Budget – We had a number of European officials oppose the Italian budget deficit today. First it was the European Commission Vice President Valdis Dombrovskis who said that Italy's deficit plans are not compliant with EU rules. Where do they fall apart, I don't understand. Then, it was ECB's Olly Rehn saying that Italy's budget deficit raise serious concerns. The Finance Minister of Austria came next commenting that Eurozone ministers want to strengthen Tria's position in the budget talks within Italy. Tria is the Finance Minister of Italy who is a technocrat put in place by EU and he is their hope to keep the deficit down.
The US Session
Amazon Raises Wages – The online books giant Amazon announced today that it will increase wages in the US to $15 per hour from as low as $10/hour. Amazon will increase wages in the UK as well to 10.50 pounds in London and to 9.50 pounds in UK. This will likely help increase wage inflation in the US since 250,000 people work for Amazon.
BoJo Against Chequers Plan but Calls for Support for Theresa May – Boris Johnson is holding a speech. He is saying that Chequers is dangerous and unstable. The EU has already rejected it so I don't see why UK politicians are stuck with that. Nonetheless, he called for support from the Conservative Party for Theresa May. He said to scrap Northern Ireland backstop for the border so it's all a mess from BoJo, exactly like the way he looks.
NZD Global Dairy Trade Price Index – The global dairy prices have been declining in the last four out of five times and the times they didn't decline, they remained stagnant. There are no expectations since this is an auction and you never know how an auction ends.
US Total Vehicle Sales – The trend for the US vehicle sales have been bearish as it has declined from around 18 million at the end of last year to 16.7 million in August. Today we will see the vehicle sales numbers for September which are expected to come at 16.8 million.
Trades in Sight
Bearish USD/CAD
The trend is bearish
Fundamentals point down
The retrace up is complete
The 50 SMA is providing resistance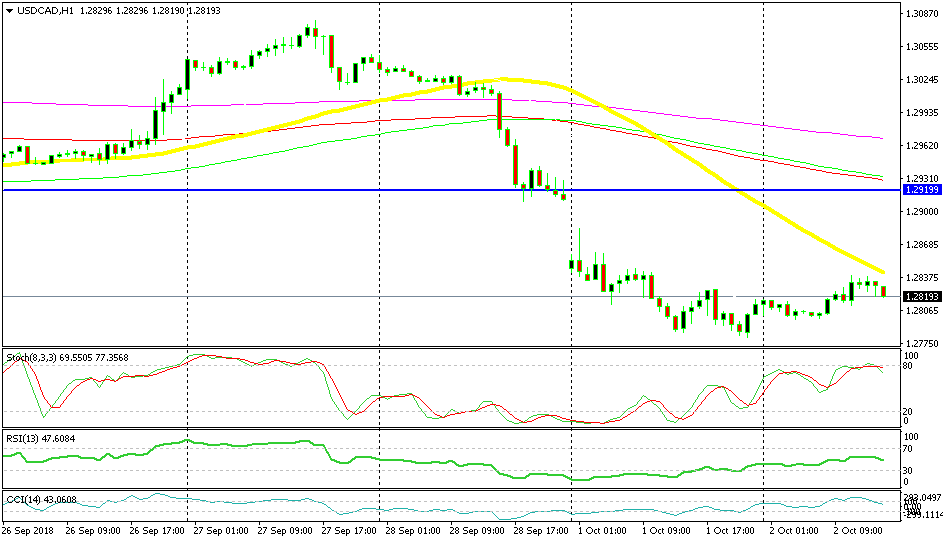 The 50 SMA provided solid resistance this morning
A while ago we decided to sell USD/CAD as this pair was retracing higher. The trend has turned bearish this week as fundamentals go in favour of the CAD. Canada has managed to squeeze in on the US-Mexico deal which will now be called USMCA.
The retrace up seemed complete since stochastic became overbought and the 50 SMA (yellow) was providing resistance. Besides, the H1 candlesticks formed a couple of dojis and a hammer, which are reversing signals. We are already about 20 pips in profit with this signal as the downtrend resumes again.
In Conclusion
The market sentiment has turned negative again today on the back of Italian budget deficit worries. Stock markets were sold off aggressively while safe havens found strong bids, although it might be over now as stocks recuperate and safe havens reverse. But it might change again in a minute, so follow us for any explicit comments which might shake the markets.
Crude Oil has been bearish for more than a year, but this week we saw a decent reversal higher on higher Caixin manufacturing
3 days ago