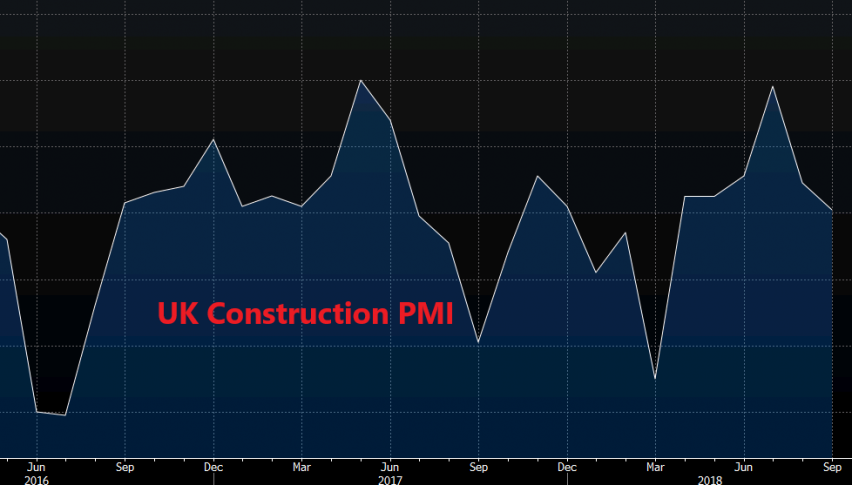 GBP/USD Extends Losses After Disappointing Construction Report
The GBP made an almost 100 pip jump yesterday after rumours that the British government would back down and offer another proposal for the Irish border issue that is keeping both sides form reaching a deal on Brexit. We have seen the GBP do this many times after positive comments on Brexit, but it has kept the bullish momentum going for some time before resuming the bearish trend.
This time, the reverse came pretty fast. GBP/USD stalled at the moving averages on the hourly chart and started sipping lower right after that. This means that the market is not buying these comments anymore unless there is something official.
This morning, GBP traders were waiting for the UK construction report to be published before making their move. The report in August showed a nice pickup in construction activity for July, but in August this report came back to its normal trend at around 53 points.
Today, the headline number was expected at 52.8 points, but it came at 52.1 PMI points, as you can find on our economic calendar. The main component to drag the headline number down was the business expectations which declined sharply and I don't blame them with all the Brexit fuss.
GBP/USD has lost nearly 100 pips since the opening of the European session, after yesterday in the afternoon it lost all the gains from the new Irish border proposal rumour. The deteriorating market sentiment which is a result of the Italian budget deficit problems are not helping matters either so this forex pair is on a pretty bearish momentum at the moment.