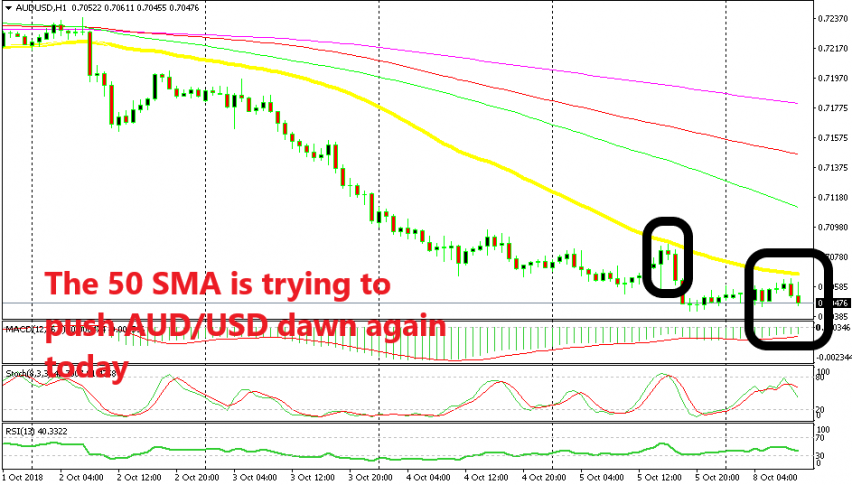 Commodity Dollars About to Resume the Bearish Trend Again
Commodity Dollars have turned pretty bearish in the last two weeks and last week the bearish momentum gained pace, sending them around 200 pips lower. Although, they made a weak retracement during late last Friday on early today, but it seems that they are resuming the bearish move again now.
Other risk currencies such as the Euro and the GBP have turned bearish early this morning as EUR/USD and GBP/USD Have lost around 50-60 pips so far. NZD/USD and AUD/USD seemed reluctant to join them, but in the last couple of hours it seems like the latter two are also resuming the bearish move.
As you can see from the hourly chart above, AUD/USD has been extremely bearish in the last several days and the 50 SMA (yellow) helped the sellers as well. Last Thursday, this moving average provided solid resistance as the buyers were pushing higher.
But, the 50 SMA ended the retrace higher and the bearish trend resumed for AUD/USD. Today we are seeing a similar chart pattern. The retrace higher hasn't exactly been the same as the last time AUD/USD touched the 50 SMA, but that an even more bearish signal, since the buyers can't find enough force to form a decent retrace.
At the moment, the sellers are getting control of commodity currencies and we might be lured to open a sell signal, wither in this pair on in NZD/USD which offers a similar picture. After all, I expect the market sentiment to be pretty negative this week as we head towards the EU summit at the end of the week where we will likely see heated debates about Brexit as well as the Italian budget, hence the negative sentiment in EUR/USD and GBP/USD this morning.