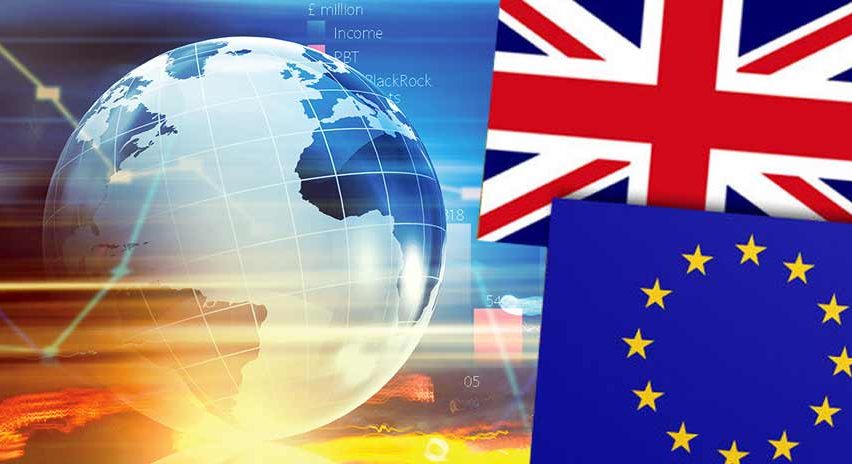 Forex Signals US Session Brief, Oct 10 – UK Data Disappoints, but Markets are Still Focused on Sentiment
Finally we have some economic events on the forex calendar today after two days of nothing. Later in the US session, the US PPI (producer price index) report will be released, but the major release today came from UK during the European session. The UK GDP report and the manufacturing report were released in the morning and they were pretty disappointing. The GDP report published last month, which showed economic growth for July, posted a surprising 0.3% jump after having slowed to just 0.1% in the previous month. Today's report which shows economic growth for August was expected to come at 0.1%, but it fell flat at 0.0%, which means that the British economy didn't grow in August.
But that wasn't all. The index of services also fell flat at 0.0%, down from 0.3% in the previous reading. The manufacturing report included the manufacturing production, industrial production and the construction output. Industrial production increased by 0.2%, which is higher than expected, but manufacturing and particularly the construction output posted some really bad figures which we will explain below.
The GBP was supposed to crash down but GBP traders are more interested in Brexit right now and rumours for a meeting between the EU and UK's Brexit Secretary Raab have raised hopes for a Brexit deal, so that is keeping the GBP afloat. The sentiment is still the biggest driver for financial markets today.
The European Session
French Industrial Production – Industrial production increased faster than expected in France. Industrial production was expected to grow by 0.1% in August, but it grew by 0.3%. Last month's number was also revised higher to 0.7% which is the second positive month after a dovish trend.     
Italian Industrial Production – The industrial production report released last month which showed a 1.8% decline in July was revised higher to -1.6% which is a good thing. Today's figure was expected to come at 0.7%, but it came at 1.7% which is a very decent increase. Perhaps Italian politicians will finally get a break after all.
UK GDP – The British economy was expected to grow by 0.1% in August, but today's report showed that it remained flat. The index of services also fell flat in August. At least, the number for July was revised higher to 0.4% from 0.3%.
UK Manufacturing, Industrial Production and Construction Reports – The manufacturing production declined by 0.2% again in Britain but last month's was revised higher from -0.25 to 0.0%, which took off some of the negativity off this report. The industrial production grew by 0.2% against 0.1% expected, but the construction output declined by 0.7%. So, this report also leans on the negative side, but the GBP showed no signs of weakness after that release apart from a small decline.
UK Brexit Secretary to Head for Brussels Next Week? – We heard news from the EU today that if a deal can be made to work, then Raab will fly to Brussels on Monday to sign off on it. These are encouraging comments, but we still don't have a proposal yet and it looks like there might not be one to come, so either party has to give some way if they want to find common ground.
Germany to Cut Growth According to Reuters – Reuters published a document from the German Government stating that they will cut economic growth for 2018 to 1.8%, down from 2.3%. 2019 will be revised down to 1.8% from 2.1%, while the German economy is expected to grow by 1.8% in 2020.
The US Session
US PPI – The US producer price index fell flat at 0% in July and it declined by 0.1% in August, so there was concern for a forming dovish trend. But today's PPI number came at 0.2% which calmed some nerves. Although, the yearly number ticked lower to 2.6% from 2.7% previously. Core monthly PPI also came at 0.2%, so it's all good.
Canadian Building Permits – Canadian building permits grew by 0.4% in August as today's report showed, against 0.5% expected. Although, last July's number was revised much lower from -0.1% to -1.5%.
UK NIESR GDP Estimate – The GDP figures from National Institute of Economic have been increasing from 0.1% in May to 0.6% in August. Today, we are expecting this report to be released again, but it is tentative, so there is no time for its release and no expectations.
US Final Wholesale Inventories MoM – Wholesale inventories grew by 0.6% in July which was revised higher today to 0.8%. Today, the number for August is expected to be the same at 0.8% which would help the GDP but cut growth forecasts for the coming months.
Trades in Sight
Bearish USD/JPY
The trend has turned bearish
Market sentiment is negative
The retrace higher is almost complete
The 20 SMA is providing resistance
The 20 SMA has reached the price and it is pushing it down now
We opened a sell forex signal in USD/JPY a while ago. The trend has changed for USD/JPY since the market sentiment has turned negative, which is always great for safe havens such as the JPY. USD/JPY has formed a weak retrace higher in the last two days which seems more like a consolidation before the next bearish move, which is also a bearish signal. The stochastic indicator is almost overbought which means that the retrace is almost complete and the 20 EMA (grey) is providing resistance on top. So, down we went on this pair.
In Conclusion
The US Dollar has been climbing for quite some time but we saw a turnaround yesterday and at the moment it is under some sort of pressure. The PPI report didn't affect the market much and neither did the UK economic data this morning, so the sentiment is still the main driver today.