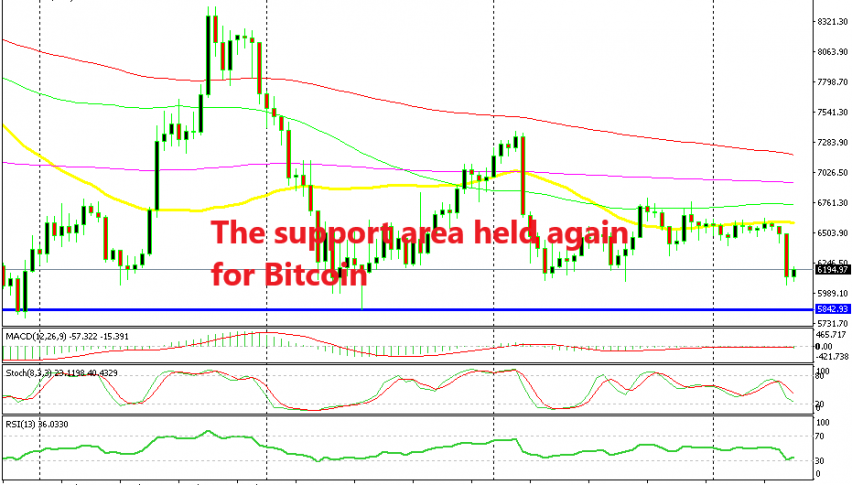 Bitcoin Finally Makes A Move, to the Downside Obviously
Cryptocurrencies have been explosive during last year and early this year. But, the volatility calmed down as we progressed into this year, although no one would have thought that cryptocurrencies would get so quiet now, especially Bitcoin.
Bitcoin narrowed the range dramatically to just $400 in the last two weeks of September and, in the first two weeks of this month, Bitcoin narrowed that range even more to a mere $200. That seems pretty lame for Bitcoin traders since the spreads are still pretty wide, so it has become increasingly difficult to trade Bitcoin recently.
Although, yesterday Bitcoin finally made a move. We were expecting it to make a break to the upside since we are long on this crypto, but obviously the move was bearish. After all, the trend has been bearish the whole year.
The IMF (International Monetary Fund) said in a recent report that "continued growth of crypto assets, could create new vulnerabilities in the international financial system". Although, the main reason was Nouriel Roubini's hearing at US Senate Committee on Banking, Housing and Community Affairs.
He made an explosive statement saying that cryptocurrencies are the mother of all scams and bubbles. Those sound like serious concerns and Roubini predicted the 2008 financial crisis to some degree. So, the market listens to him. But on the other hand, Roubini has been a crypto bear since the beginning, while altcoins kept increasing in value.
Anyway, Bitcoin still respected the support zone which stretches around the $6,000 level. Bitcoin stopped at $6,050 and it is trying to move higher today. It climbed above $6,200 for a while but has slipped back below now, although it still remains bullish for now.