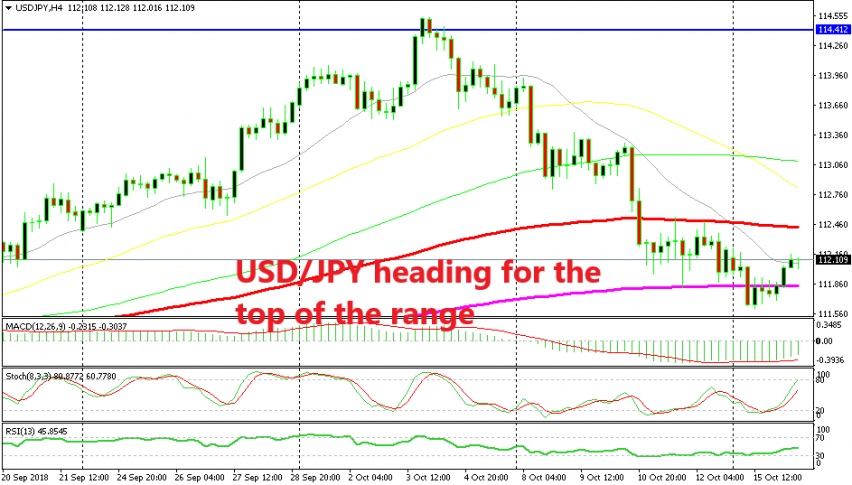 USD/JPY Back Inside the Range Between Moving Averages
USD/JPY has been trading on a bearish trend in the last two weeks but by the end of last week, this pair got stuck in a range between two moving averages. USD/JPY traded for a few days in a 70 pips range, between the 200 SMA (purple) at the bottom and the 100 SMA (red) at the top. This shows that the downtrend has a lot of pace.
But, the bearish move stretched further yesterday and it broke the 200 SMA. Although, the buyers came back and they pushed this pair back up and inside the range again. The 200 SMA did provide resistance for a while yesterday, but eventually, the buyers managed to push above it.
Now the price is right in the middle of the range as USD/JPY heads higher. The target is the 100 SMA (red) but we don't know yet if the buyers have enough strength in them to continue pushing higher. If they do, then that would be a great place to look for a sell forex trade.
The stochastic indicator will be well oversold by that time which means that the retrace will be over. The sentiment continues to remain negative as the two major problems still remain unanswered. A Brexit deal doesn't seem likely this week and the Italians are going into the EU summit with their budget plans which have been contested by EU officials.
So, the pressure should remain on the downside for USD/JPY until the end of the week. But, we have to wait for the price to reach the 100 SMA, since that would give us some pretty good risk/reward ratio.