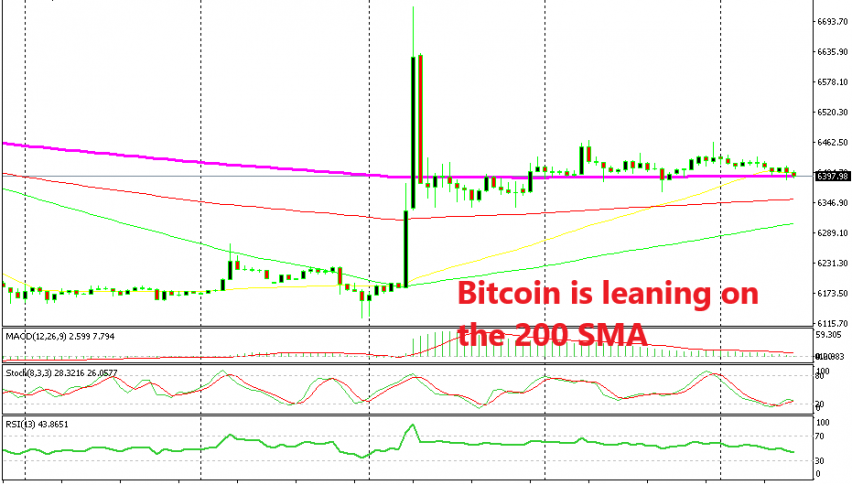 Bitcoin Finding Support at the 200 SMA
The price action in cryptocurrencies has calmed down considerably in recent months. Last year, we used to see moves worth several thousand dollars in a single day, especially in Bitcoin. But in the last few months, the moves have been reduced to less than $100 a day on average for Bitcoin.
However, the last two weeks have seen a couple of quick moves which gave the crypto market a wakeup call. But, even these moves didn't get this market active like last year. Last week, a major hedge fund delivered some bearish comments for cryptocurrencies, saying that the crypto market is the mother and father of all scams.
Although that guy has been a crypto bear since the beginning, Bitcoin lost around $500 nonetheless, if you scroll your charts back. On Monday Bitcoin jumped 500 pips higher and the reason for that was the selloff in Tether. Tether broke below $1 and dived as low as 85 cents.
Tether was created to be an alternative to the USD with the same value as the Buck. So, once Tether started falling below $1, the holders started dumping it and the cash started flying from Tether to other major cryptocurrencies, hence the jump.
Bitcoin spiked above $6,700 from $6,200 but it gave back half the gains pretty quickly. The price slipped below the 200 SMA (purple) but it climbed back above it yesterday. Yesterday, this moving average turned into support and today it is providing support as well.
The stochastic indicator is oversold now on the H1 chart and it is turning higher, so perhaps we will see another bullish move soon if the 200 SMA holds. But, beware the sellers because the main trend is still bearish for cryptocurrencies.