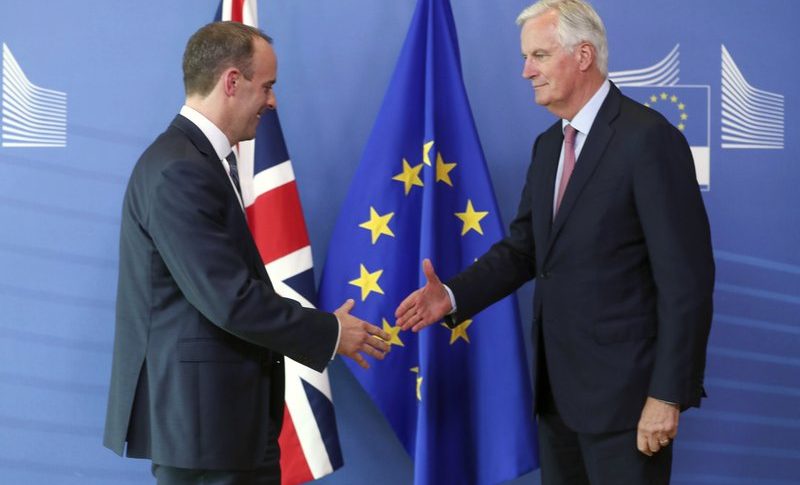 Forex Signals US Session Brief, October 17 – Risk Currencies Turn Bearish As EU Summit Gets Underway
The last official EU summit for the year starts today and, as we have often mentioned in recent days, two major issues will be under the radar at this summit – the Brexit problem and the Italian budget for next year. But, from what we are hearing, none of these two problems will find a solution in this last official meeting for the EU. We had a positive comment on a possible Brexit deal in the morning by the French Finance Minister, but the Irish Foreign Minister Coveney was quick to ruin the fun and other European leaders also piled on, on the side of Coveney, so it seems that there might not be a Brexit deal even by November.
We herd Angela Merkel say a while ago that the devil hides in the details when speaking about the Irish border. She also said that Germany is preparing for a no-deal Brexit scenario. So a deal is as good as dead for me. We also heard Italians say that they are also preparing for a downgrade by rating agencies this month, so it seems that there won't be an agreement on the Italian budget plan either.
The European Session
Not Far From A Brexit Deal for Le Maire – French Finance Minister Bruno Le Maire said early in the morning that we are not far from a Brexit deal and that we might get a deal in the weeks ahead. But both sides must make an effort. That last comment gave it all away.
There Might Be Another Brexit Summit, or There Might Not Be One – Irish Foreign Minister Coveney popped up soon after the French minister saying that the backstop for the Irish border cannot be limited and there might be new dates brought forward for a new summit exclusively on Brexit. No time limit for the backstop means no deal then, since the British want a border as soon as possible.
Don't Mention the Price, Says OPEC – OPEC has asked its members not to mention Oil prices when talking about production policy. I think this is due to fears that the US might sue OPEC for manipulation of prices, but once the price starts to fall, I'm sure OPEC members will scream higher prices.
UK CPI Inflation Report – The consumer price index was expected to grow at 2.7% this month from 2.6% previously, but it came at 2.4% year-on-year. Core inflation also slipped to 2% from 2.2% previously. Monthly inflation also cooled off to just 0.1% from 0.75 previously. A soft report adding to the negative sentiment for the GBP.
Eurozone CPI Inflation Report – Unlike in the UK, inflation came bang on expectations for the Eurozone. Year-on-year inflation remained unchanged at 2.1% as expected, while core yearly inflation stood at 0.9%, like last month. The monthly inflation also remained unchanged at 0.5%, so it looks pretty steady.
Italians Are Expecting A Downgrade from Rating Companies – Italian Government Undersecretary cannot rule out credit rating downgrade. He added that the country must prepare for a possible downgrade. Italy will be reviewed by S&P next Friday as well as by Moody's.
Many Countries Want A No Brexit Deal – These were the comments from an unnamed EU official. He added that the dates for a Brexit summit might be pushed further which sounds like the EU is preparing for a no-deal Brexit scenario.
The US Session
US MBA Mortgage Applications – Mortgage applications fell by 7.1% from -1.7% in the previous week. All components are weaker as well, so let's hope this does not turn into a trend.
Chequers Plan Not Dead For Theresa May – UK Prime Minister Theresa May still believes in the Chequers plan and she added that Britain will honor financial obligations to the EU, but nothing is agreed until everything is agreed. In other words, no financial obligations to be paid unless the EU accepts the Chequers plan which it already rejected three weeks ago.
Irish Border Is the Issue for Merkel Too – Angela Merkel said before the start of the EU summit that the devil hides in the details for the Irish border and that Germany is preparing for a no-deal scenario.
Consul of Saudi Arabia in Turkey Under Investigation – The Saudi Consul in Turkey has been let off from his job and is under investigation. The press is out with articles that place the blame for the killing of a dissident Saudi journalist on 15 Saudi agents who flew to Turkey with intention of killing him, which happened with the Consul being present.
US Housing Starts – US housing starts were expected at 1.22 million, down from 1.27 million last month. Although, the actual number came at 1.20 million which brings us back to the trend we saw in July and August.
Building Permits – Building permits were expected to increase by 1.27 million this month, but came at 1.24 million. Housing starts used to be at around 1.35 million several months back, but the trend has turned bearish.
Canadian Manufacturing Sales – Manufacturing sales declined by 0.4% this month, while expectations were for a 0.6% decline. Although, last month's number was revised higher to 1.2% from 0.9%.
FOMC Meeting Minutes – Meeting minutes from the FED last meeting will be released in the evening today. The FED sounded pretty hawkish in the last meeting. The USD has already turned bullish ahead of the minutes, so I suppose the market is expecting some hawkish remarks in the minutes.
US Treasury Currency Report – The semi-annual currency report from the US Treasury will be released after the meeting minutes. I heard that it will highlight the manipulation in the forex world, pointing out companies and countries that have depreciated their currency. This might affect some currencies, no doubt.
Trades in Sight
Bearish Gold XAU
The trend has turned bearish
Market sentiment is negative
Stochastic is turning higher
The 200 SMA should provide support if Gold retraces down there
Gold has turned bullish last week after trading on a bearish trend for many months. It has broken to the upside the 50 and 100 SMAs on the daily chart, while on the H4 chart it has broken all moving averages. The sentiment has turned negative during this period due to international politics that we mentioned above, which is helping Gold climb higher. Now, the 200 SMA (purple) should turn into support for Gold, but the buyers are not waiting for a retrace down there. They jumped in today after Gold made a doji candlestick and now stochastic is turning higher after being oversold.
In Conclusion
At the moment, the market is leaning on the USD side as the release time for the FOMC meeting minutes approaches. The EU summit has just started, which is expected to shake the markets in the coming session, so prepare for some volatility this week guys.