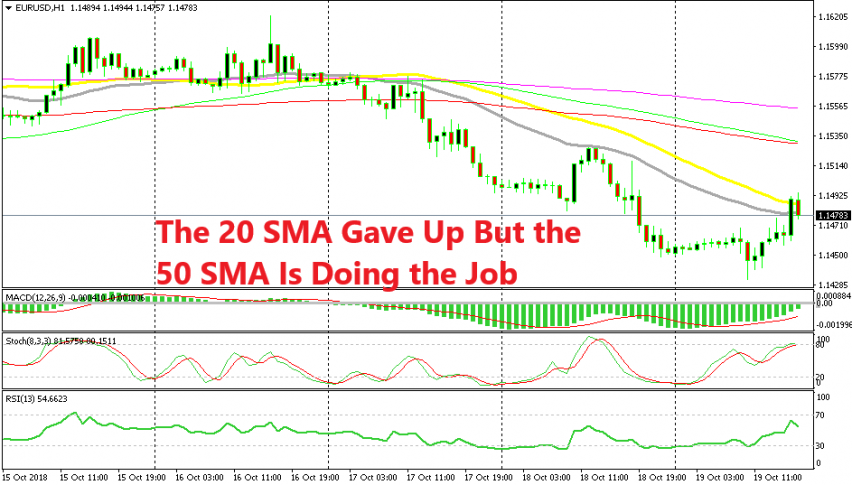 EUR/USD Heads for the 50 SMA Instead of 20 SMA
A while ago we opened a forex signal in EUR/USD as this pair was approaching the 20 SMA (grey) on the hourly chart. This moving average provided resistance yesterday, so we thought that the 20 SMA was going to reverse EUR/USD again today, so we decided to sell this forex pair.
But I missed the stochastic indicator. When the price reached the 20 SMA yesterday, the stochastic indicator was overbought. This meant that the retrace was over and the reverse followed after that. This also means that it probably wasn't the 20 SMA which turned EUR/USD bearish. It was just that EUR/USD completed the pullback higher and became overbought, so the bearish reversal followed.
We spotted that detail earlier today when we opened the EUR/USD signal, but we hoped that it was the 20 SMA that made the reversal possible, although the 20 SMA did play some role in it.
But as we see today, the price ignored the 20 SMA after finding some weak resistance there and jumped higher. Now, the stochastic indicator has become overbought which means that the retrace is complete. A bearish reversal should follow now and by chance, the reversal which is already taking place, is happening right at the 50 SMA. Well, whatever pleases EUR/USD sellers, it works for us the same. Let's hope that the EUR/USD makes new lows.