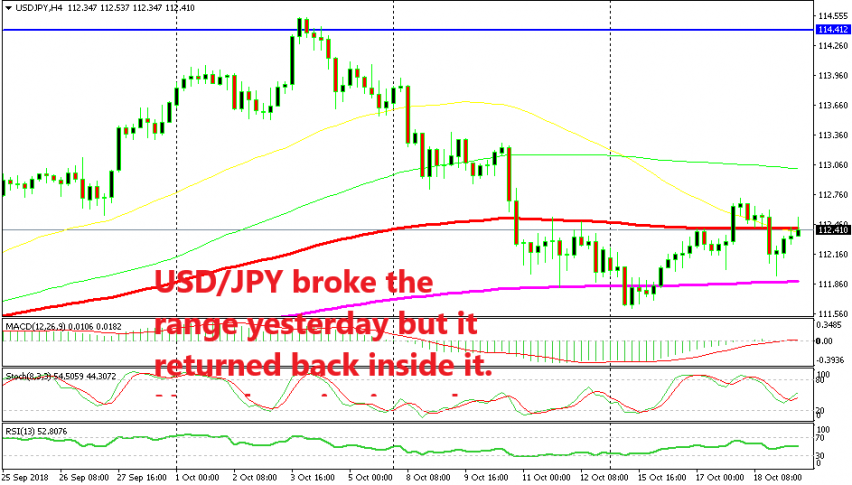 Selling USD/JPY at the Top of the Range Again
USD/JPY has been trading inside a range for about a week after turning bearish two weeks ago and losing nearly 300 pips. But, we mentioned earlier this week that after the fall, USD/JPY was bouncing between two moving averages in a 70 pip range.
That range hasn't been exactly respected to the pip; we saw a break to the downside at the beginning of the week and another break to the upside yesterday. But, the price returned down, falling 70 pips as the sentiment turned negative suddenly in the evening.
I'm not sure why the sentiment suddenly turned negative yesterday, although the bottom of the range did hold. During the night, the price has retraced back up and now we are at the top of the range once again. There was a piercing a couple of hours ago, but it seems like this H4 candlesticks will close below the 100 SMA (red).
The 100 SMA is capping the retrace this morning
Switching to the H1 chart, we see that the stochastic indicator is overbought here. This means that the retrace higher on the H1 chart is complete. Besides, the last two hourly candlesticks have formed two upside-down hammers which are reversing signals after the bullish move overnight.
While yesterday it was the 200 SMA (purple) providing resistance on the H1 chart, today it is the 100 SMA (red) which is doing that job. So, we have several indicators pointing down in USD/JPY, that's why we decided to go short on this pair. The market sentiment remains a bit negative still, which should send USD/JPY in our direction.