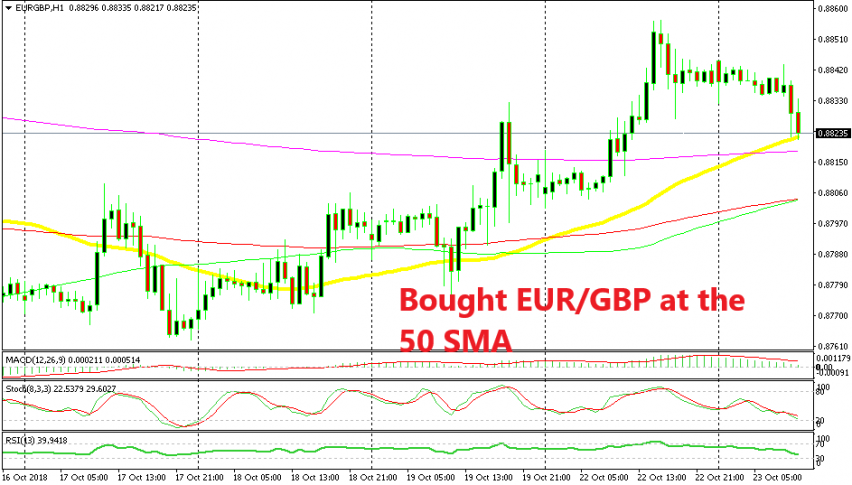 Buying the Pullback in EUR/GBP
EUR/GBP has turned bullish in the last two weeks after losing nearly 300 pips at the beginning of October. The market sentiment is similar for both currencies, so they have been on a slippery slope in recent weeks.
But, the situation is a bit more dramatic for the GBP than it is for the Euro. Italy won't leave the European Union and it won't abandon the Euro if the European Commission doesn't prove Italy's budget draft for next year. Moody's revised Italy's debt rating to stable yesterday after it scaled it down just one step above junk.
On the other hand, a Brexit deal seems very unlikely now and the British Prime Minister Theresa May might be voted out from her own party this week. So, the situation is much worse for the GBP.
As a result, EUR/GBP has formed an uptrend in the last two weeks. Although, it is retracing lower this morning. But, we see this retrace lower as an opportunity to get in on the long side, together with everyone else.
The stochastic indicator is almost oversold, which means that the retrace lower is almost complete. Besides that, we have the 50 SMA (yellow) providing support right now. That moving average has been providing support and resistance before, if you scroll back the chart. The 200 SMA (purple) is also standing just below the current price, so it will turn into support if the 50 SMA gets broken, although it seems unlikely right now.