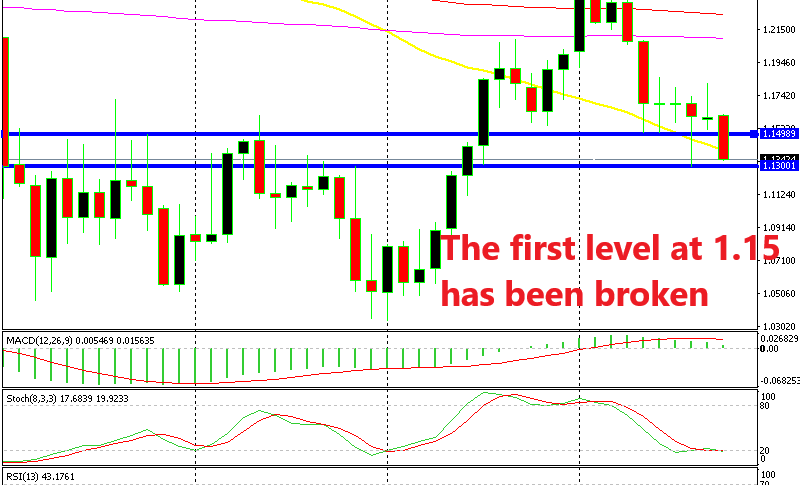 EUR/USD Breaks One Major Level, Heads for the Next
EUR/USD finished the big bullish move that we saw last year and now it has entered a bearish phase. The FED is hiking interest rates aggressively while it will take at least a year for the ECB to start hiking rates for the first time in a long time. In fact, yesterday, we got this vibe from the ECB statement and press conference that the first rate hike might not even come in September 2019, but probably in December.
The divergence in the monetary policy is pretty wide between the two central banks and, as a result, EUR/USD has turned lower. At first, it was finding some solid support t the 1.15 level (top line). Besides being a big round number, this level used to be a major resistance level in 2015 and 2016.
Then, it turned into support earlier this year as the price bounced off of it several times, apart from August when the price fell to 1.30. The 1.15 level has now been broken but the 1.13 level still remains and it seems like EUR/USD is headed there.
The 1.13 level is not as strong a level as 1.15, but it has provided resistance before and it turned into support on August. The price hasn't been able to close below the 50 SMA (yellow) but it looks like this monthly candlestick will close below it and probably below 1.13 as well. We're only 40 pips above now and the end of the month is close. After that, the road will be open for 1.10.