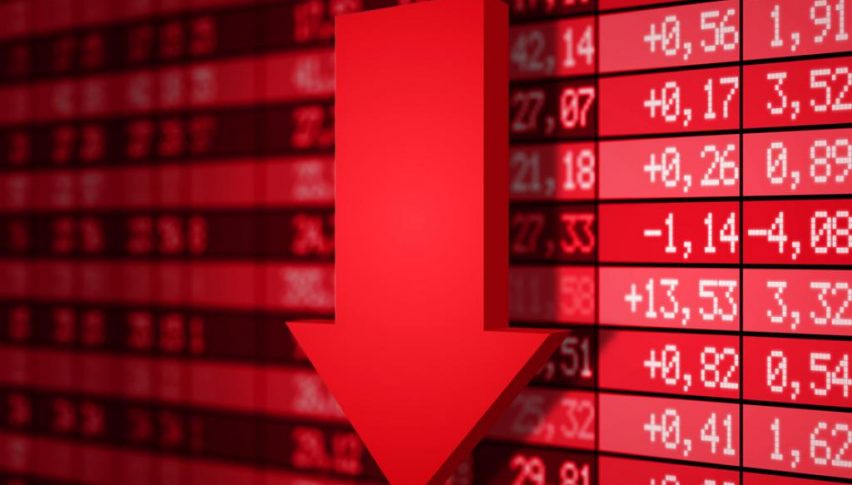 What Turned the Market Sentiment Sour Today?
Yesterday, the market sentiment turned positive in the afternoon, after it had been negative for quite a long time. As a result, stock markets retraced higher while safe haven assets such as Gold and the JPY slipped lower.
But, this morning, the sentiment has turned negative again. Stock markets opened with a bearish gap lower as I mentioned in one of the previous updates earlier. On the other hand, safe havens are surging higher, with Gold jumping nearly $10 higher while USD/JPY has lost around 80 pips since last night.
The reason for the deteriorating sentiment this morning could be the lower growth forecasts for the Eurozone that the ECB released this morning. Let's list the ECB forecasts for growth and inflation below:
2018 growth seen at 2.0% – down from 2.2%
2019 growth seen at 1.8% – down from 1.9%
2020 growth seen at 1.6% – unchanged
Main Inflation seen averaging at 1.7% in 2018, 2019, 2020 – unchanged
Core inflation seen at 1.1% for 2018 – down from 1.2%
Core inflation seen at 1.4% for 2019 – down from 1.5%
Core inflation seen at 1.7% for 2020 – unchanged
Growth and core inflation forecasts have been revised lower.
Another reason might be the comments from Italian politician Claudio Borghi who said that he expects the S&P rating to be moderate. This means that Borghi is expecting a downgrade. He added that ECB's Draghi should talk about Italy leaving the Euro area and ECB's comments on Italian banks can cause more problems.
The situation in Italy has been a major factor for the negative sentiment so these comments are having some impact today. Or perhaps, it might just be the market itself that resumes the recent trend today after the retrace yesterday in the afternoon. Although, I think it is all of the above reasons together that have turned the sentiment sour in financial markets today.