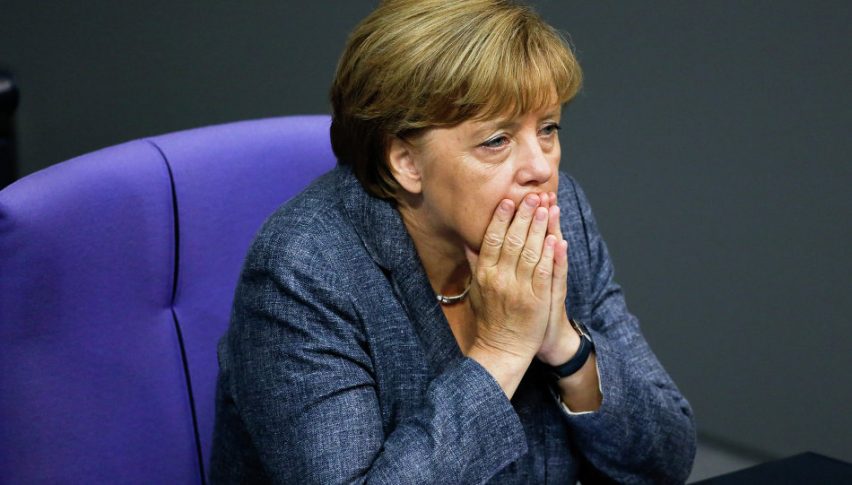 Market Sentiment Reverses After Merkel Backs Off?
The USD was seeing some nice demand as European markets opened this morning. The sentiment was a bit negative and risk currencies started sliding. We got a quick trade on EUR/USD during that move, but the sentiment has suddenly changed now and risk currencies are climbing higher, particularly EUR/USD.
What's the reason for this?
I can't find anything and the economic calendar is pretty light today. But, there was a rumor making rounds on Reuters and on Twitter accounts of Spiegel editors. The rumor said that Angela Merkel might step down from as the head of the CDU party.
Merkel's CDU party and the governing partner SPD both lost around 10% in the regional elections in Hesse which is home to the manufacturing and industrial heart of Germany. The Greens and the AfD (alliance for Germany) jumped higher in the polls.
So, Merkel said earlier this year that she will run for re-election as the leader of the CDU party, but now it appears that she has changed her mind. Or perhaps it is because of the pressure from her Party that has forced to step down after running Germany for a long time.
Why is this a positive thing for the Euro?
As we have seen from the latest election results in Bavaria and now in Hesse, both governing coalition parties have performed really badly and they are set to lose on the next general elections. That means turmoil for German politics and EU politics as well. The next coalition is likely to include many more parties since there will be no clear leader, which will be pretty weak.
That would be a negative thing for the German economy and for the Euro, considering the situation with Brexit, the Italian budget, the softening EU economic growth and Trump's car tariffs which will likely come by the beginning of next year.
But, if Merkel steps down, then the CDU and the other governing parties might pull off another win, which would stabilize the situation at least for another term. After all, Germans and many Europeans are angry at Merkel for opening up Europe's borders, so if she goes, then that would be one less headache for the Euro.