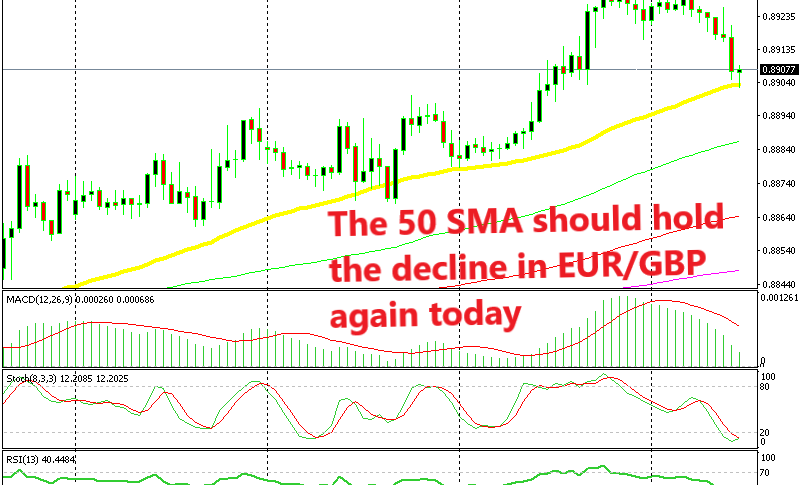 Getting Along With the Trend in EUR/GBP
The Euro has been on a bearish trend for 5-6 weeks since the market sentiment turned negative by the end of September. But, the GBP has been trading on an even stronger downtrend during the last three weeks, which means that the Euro has been increasing against the GBP, hence the uptrend in EUR/GBP since early October.
We have opened a few buy trades during this period and, from what I can recall, they have closed in profit. Yesterday, this forex pair pushed to the upside once again as the GBP tumbled lower. GBP/USD lost more than 100 pips yesterday from top to bottom, breaking below 1.27 for the first time since August.
Although, EUR/GBP retraced lower during late Asian session and it is still retracing down during the beginning of the European session. The retrace has taken this pair to the 50 SMA (yellow) now and it looks like a good opportunity to get on with the trend on this pair once again.
This moving average has been providing solid support to EUR/GBP during the past week. The price has pierced it a few times but has returned back above it, which means that it hasn't been broken. This morning, the price is back at the 50 SMA and the stochastic indicator is oversold.
So, the bearish retrace is complete on the H1 chart, hence the buy signal that we just opened. Now, let's wait for the buyers to regroup again and make another push higher.