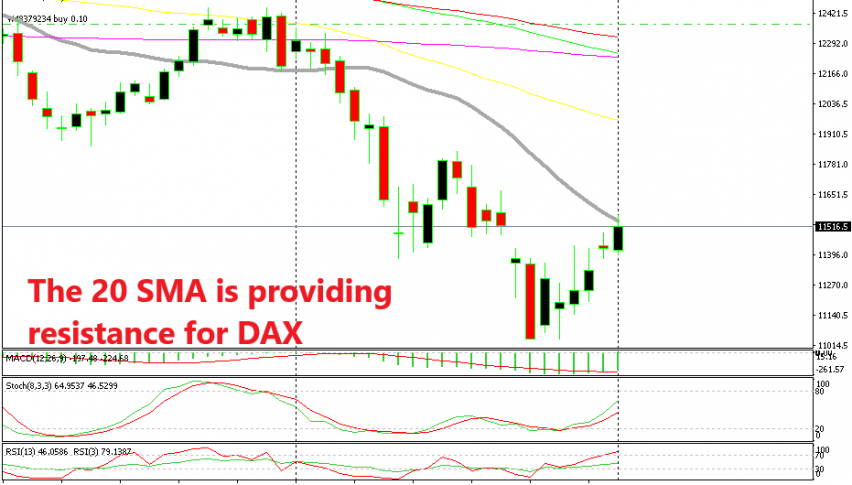 Stocks Make the Next Bullish Leg but Now Face the 20 SMA
Stock markets have been trading on a bearish trend for many weeks now as the market sentiment has been pretty negative. But, this week they have made a bullish reversal higher. The market sentiment has improved somewhat, or at least it is not as bad as it used to be in previous weeks.
You can observe the shift in the sentiment in safe-haven assets such as GOLD and the JPY, both of which have declined this week. On the other hand, risk currencies are up, as well as stock markets. When risk assets climb and safe havens decline, it means that the sentiment is positive in financial markets.
So, stocks have been moving higher this week. They opened with a bullish gap yesterday but didn't make any more gains during the day. Today, they have made another bullish move after markets opened in the European session.
But, they are facing moving averages on the daily chart. As you can see from the daily DAX chart, the price moved higher to kiss the 20 SMA, but buyers couldn't push above it. The same situation is in other European stock markets.
If indices don't push above the 20 SMA today, this might as well be the end of the bullish move, which in fact is still considered a retrace. Tomorrow, the stochastic indicator will be overbought which means that the retrace will be complete on the daily chart. So, the sentiment has turned slightly positive this week, but it might change again tomorrow and according to the technical analysis, this retrace in stocks seems like a good opportunity to sell.