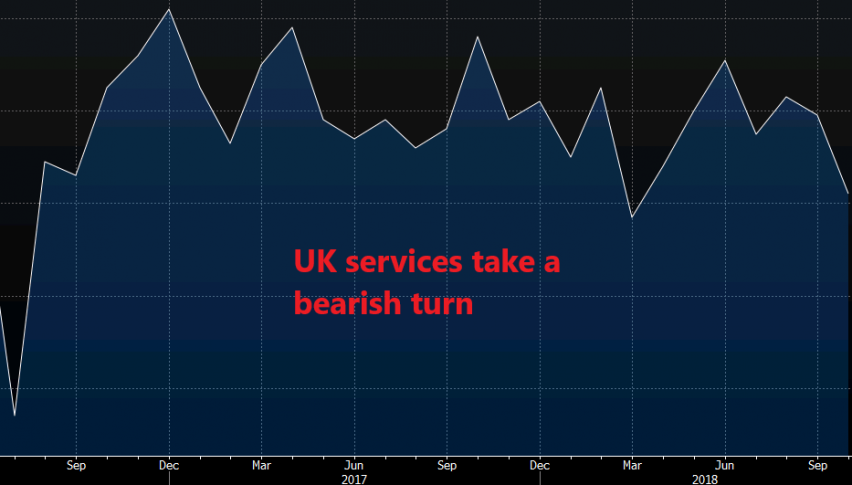 UK Services Data Disappoints Again but Brexit Optimism Keeps GBP Safe
The UK services PMI report was released a while ago and it was yet another disappointing number from Britain. Last month, this sector held up well as the PMI indicator came at 53.9 points and today the market was expecting a slight softening of the sector at 53.4 points.
But, the actual number came at 52.2 points which is pretty close to the 50 level where the sector is flat. Although, last week's soft manufacturing number was a sign that the services might be soft as well. The European manufacturing and services numbers that we saw last week was another indicator of this since they were soft as well.
GBP/USD dipped for a moment after the report was released, but it recuperated pretty quickly and it is up and running now. Over the weekend there were rumours that a Brexit deal might be close once again and the sentiment in GBP pairs is positive at the moment, otherwise, the GBP would have dived after the soft services number.
The rumours over the weekend said that the EU might offer some concession on the Irish border. But, the Irish Foreign Minister and EU's Sabine Weyand commented this morning denying those rumours. Nonetheless, the more talk there is for a deal being struck soon, the higher the odds of a deal and the better the GBP feels.
The gap is now closed
GBP/USD dipped to the 50 SMA on the H1 chart and bounced off it. Last night, GBP/USD opened with a bearish gap higher, but this move closed that gap. Probably, we will hear more comments about this issue today, but for now, the sentiment is bullish for GBP pairs.