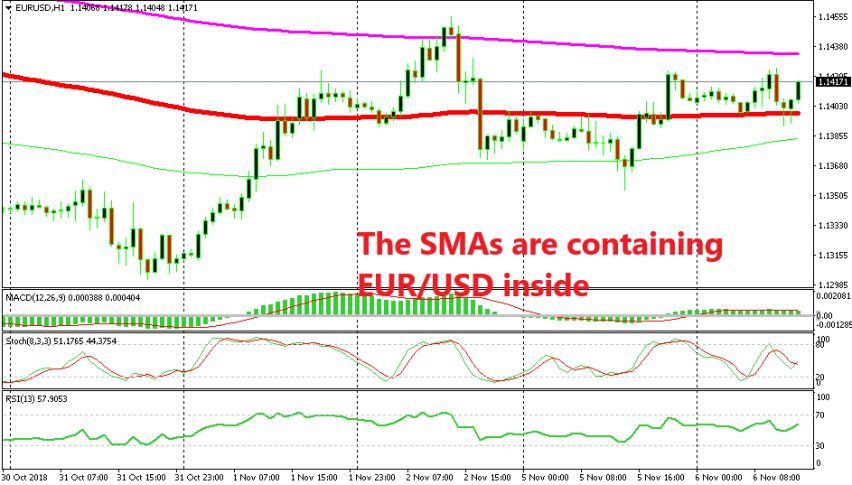 EUR/USD Trades Between Two Moving Averages
Yesterday, we opened a sell forex signal in EUR/USD. The surge we saw at the end of last week was over and the buyers weren't pushing anymore, so I thought that the trade adjustment before the US midterm elections was over. Well, it seems like it is over, but the sellers aren't doing anything either, so I guess forex traders are just staying in the sidelines for now.
You can see that from the price action in other major forex pairs as well. But unlike them, EUR/USD is trading in a range before the elections. Although, that might change once the exit polls from US midterms start coming out.
Anyhow, the range in EUR/USD has been defined by two moving average. The top of the range has been defined by the 200 SMA (purple) while the bottom of the range has been defined by the 100 SMA (red). The 100 SMA was acting as resistance during the Asian and the European session yesterday, but it turned into support after being broken.
In the last few hours, EUR/USD pierced the bottom moving average a couple of times, but none of the candlesticks closed below it, so the 100 SMA didn't break. Those two candlesticks formed two hammers which are reversing signals and now this pair is reversing higher again, within the range. Let's see if EUR/USD will reach the top of the range now.