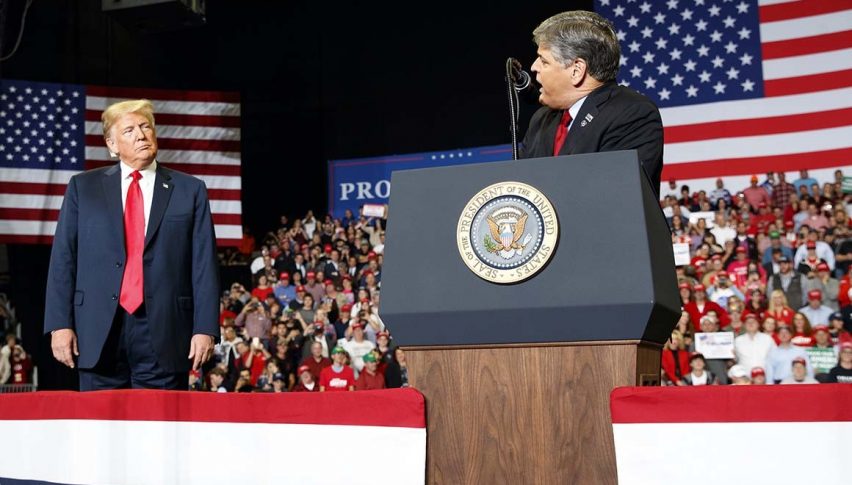 Forex Signals US Session Brief, November 6 – All Calm Before Donald Trump's First Test
The US midterm Election Day is finally here. Midterms are not usually that important but this time it is a bit different, especially for those of us who are trading forex. There are more than 30 congressional seats of the Republicans for grabs and the Democrats only need to take a few of those seats to take the majority. That would make things pretty difficult for the remaining two years of Donald Trump's presidency, as we explained yesterday. Democrats could block certain political and, more importantly, economic policies of the White House administration which would probably hurt the US economy. Trump might even get impeached. This wouldn't be good for the US Dollar, so if Democrats win the Congress, I expect the USD to forget this year's bullish trend and shift to bearish.
In fact, we as traders should follow the exit polls today because the market will try to read the outcome from the first exit polls and then continue as the votes get counted. On a different matter, the services numbers from the Eurozone come out a bit mixed but slightly leaning to the positive side as German and Spanish services showed a nice recovery, while Italian services dipped below the 50 break-even level, just like manufacturing. But, the Euro was little changed because the elephant in the room – the US elections, is taking all the attention today, obviously.
The European Session
German Factory Orders – Factory orders were expected to decline by 0.4% in Germany today, but they increased by 0.3%. Although, the best came from last month's number which was revised to 2.5% from 2.0%.
German Services PMI – This was a good day for Germany economically because the service sector as well as factory orders showed an increase. Services PMI was expected to remain unchanged at 53.6 points like last month but it came at 54.7 points.
Moscovici Expects Firm Answer From Italy on November 13 – These were the comments from EU's European Affairs Minister who added that higher public debt is not favourable for Italy's growth and if Italy doesn't respect the budget rules then there might be sanctions. Italians repeated yesterday that they won't change the budget, so let's see who chickens out first.
Spanish Services PMI – We also saw a pretty decent jump in Spanish services today. They were expected to decline further to 51.9 points from 52.5 points previously, but instead, jumped to 54 PMI points.
French Services PMI – French services number showed a slight cooling off today as the actual number came at 55.3 points, down from 55.6 previously. Although, it is only a slight decline and the sector remains in decent shape.
Italian Services PMI – We can't say the same about the Italian service sector though. After manufacturing fell below the 50 break-even level, services also declined below that level to 49.2 points. That's more than a four point decline from the previous month.
Northern Ireland DUP Party Hints at No-Deal – Jeffrey Donaldson of the DUP Party tweeted today that it looks like we are heading for a no-deal Brexit. It was about the Irish border of course, but we don't know what to believe anymore.
Eurozone PPI – The producer price index was expected to grow by 0.4% in the Eurozone this month, but it increased by 0.5% instead. Last month's number was also revised higher to 0.4% from 0.3% previously. Let's see if these numbers will help increase the CPI inflation in the coming weeks.
The US Session
US Midterm Elections – US citizens have already started to vote for the midterm elections and, as I mentioned in the initial paragraph, if Republicans lose the Congress, then expect some bearish time for the USD. If Republicans manage to keep the Congress, which is a bit difficult, then I expect some relief rally in stocks and the USD which would take EUR/ USD lower.
Canadian Building Permits – Canadian building permits were expected to grow by 0.3% but grew by 0.4% instead. Although, last month was revised much lower from 0.4% to -1.1%, so probably today's number will prove to be a lie again if we see another downward revision next month.
Global Dairy Trade Price Index – Today is the day for the global dairy auction in New Zealand. Two weeks ago, dairy prices fell by 0.3% so let's see how the auction goes today. If we see a big decline, then that will have some negative impact on the NZD.
Jolts Jobs Openings – Jolts jobs opening moved above 7 million for the first time in many months last month, coming at 7.14 million. Today, they were expected at 7.09 million and came out close to that. Increasing new jobs are a good sign for Donald Trump by the way.
UK Cabinet Meeting on Brexit – Theresa May came out of the cabinet meeting a while ago saying that a number of difficult issues remain. That's all you need to hear. So, we are back at the beginning.
Iraq to Expand Oil Capacity – Iraq's Oil Minister said that Iraq is close to a deal to increase its Oil output capacity. Iraq has lacked investment in the field, so this would help to make up for some of Iran's Oil after sanctions. Oil is still declining though.
Trades in Sight
Bullish EUR/USD
This pair is trading in a range
The 200 SMA provided resistance
Stochastic is almost overbought
The 200 SMA resisted well
As we mentioned in one of our previous forex updates, EUR/USD has been trading in a range since yesterday in the US session. We opened a signal above the bottom of the range at the 100 SMA (red). The price tried the top of the range a few hours ago, but the 200 SMA (purple) held its ground well and now this forex pair is reversing back down. The stochastic indicator is almost overbought and it is now reversing lower, so the price is going in the right direction.
In Conclusion
So, the midterm US elections have started. We haven't seen much action in the US Dollar today apart from some ups and downs in tight ranges, but it is still too early. Once results start coming out, the volatility will pick up, so stay tuned guys, especially as our US based analyst Shain takes over.
Risk assets as well as safe havens have been declining today on high UK inflation numbers and China troubles
5 days ago