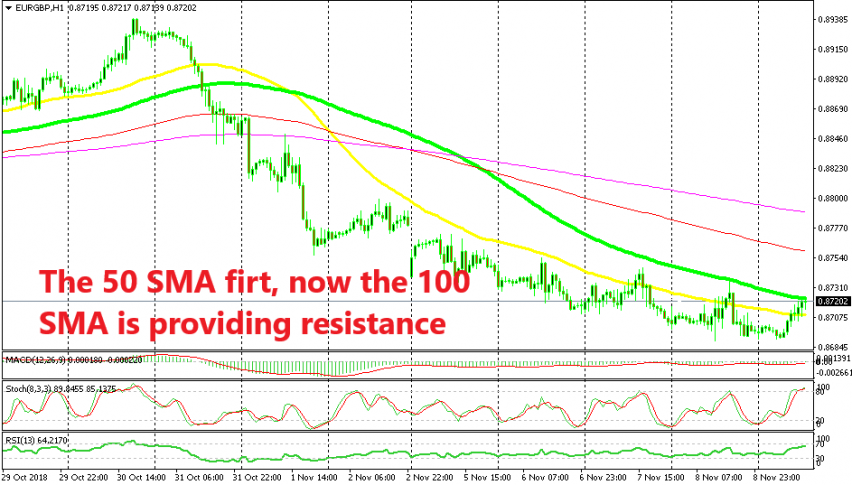 EUR/GBP Points Down as It Flirts With the 100 SMA Again
A bit earlier today, I opened a sell forex signal in EUR/GBP, although I didn't see the signal that my colleague Arslan had opened before me of this pair. So, I closed that signal but the chart setup still points to a bearish reversal soon.
As you can see from the H1 chart above, EUR/GBP has been trading on a strong bearish trend for about two weeks and has lost 250 pips from top to bottom. So, the only way to trade this pair during this time is to go down with the trend.
Although, as I have often mentioned, I don't like to jump in a trade at the middle of the trend. So, I wait until the pair forms a pullback and when the pullback is over, I get in. The chart setup right now tells us that the retrace higher is complete and the bearish trend is about to resume.
The 50 SMA (yellow) has been pushing the trend lower earlier, but in the last few days we see that the 100 SMA is doing that job. The price has turned bearish every time it approached or touched this moving average in the last three days.
This morning, the price retraced higher but it has been banging against the 100 SMA in the last few hours and seems like it is about to turn bearish now. The stochastic indicator is now overbought, so the retrace up is complete. Now, let's wait it out until the bearish trend resumes again and probably make new lows for this pair, unless Brexit news ruins things for us again.