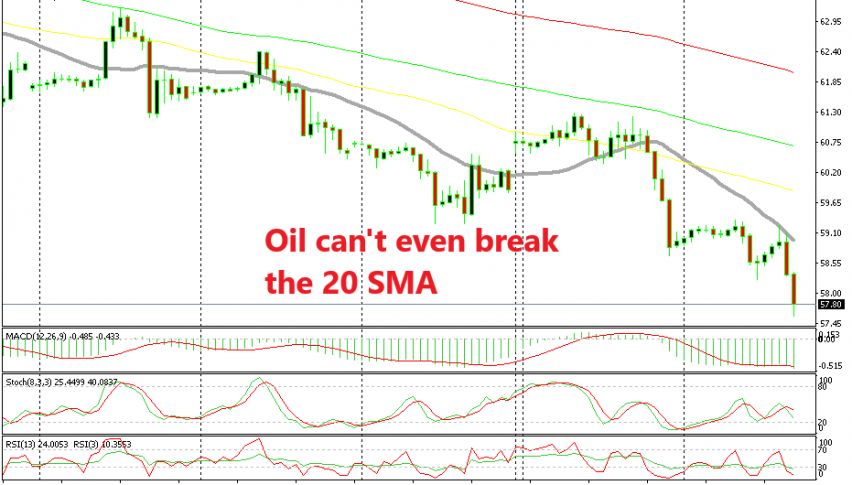 Crude Oil Extends the Downtrend As OPEC Sounds Pessimistic on Demand
Crude Oil has turned really bearish since the beginning of October when it failed to reach the $80 level or break above the 100 SMA on the monthly chart. It has been a very steep decline and WTI Oil has lost nearly $20 during this time, which means that oil has lost around a quarter of its value.
WTI Oil made a bullish engulfing candlestick last month and this month's candlestick seems pretty bearish as well. Oil opened with a small bullish gap yesterday after the weekend pause, but the 20 SMA (grey) provided resistance and kept the downtrend in place.
OPEC released its monthly bulletin this morning and it didn't look good for Oil or Oil buyers. They expect the demand to decline more than expected in 2019 as well as non-OPEC producers to raise their output to exceed the demand.
As a result, Crude Oil lost more than $1 and it finally made a clear break of the $58 level. It retraced higher in the next few hours, but it found support at the 20 SMA again, this time on the H1 chart, as you can see from the image above.
The picture in Crude Oil turns even more bearish now after the comments from OPEC. So, the plan for the near-term is to sell retraces in Oil. We just lost one great opportunity right now as Oil lost nearly $1 after the failure to push above the 20 SMA. Let's wait for another pullback.