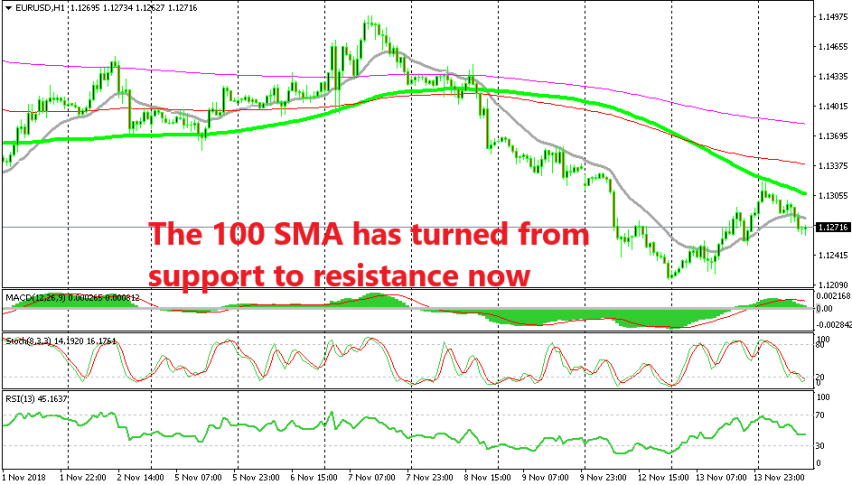 The 100 SMA Ends the Retrace for EUR/USD
Posted Wednesday, November 14, 2018 by
Skerdian Meta
• 1 min read
EUR/USD has turned pretty bearish in the last several days after the bearish retrace in the USD before the US midterm elections. This pair finally broke the major support at 1.13 on Monday and reached as low as 1.1215.
Although, it made a turnaround yesterday as news about a possible Brexit deal started popping up. As a result, EUR/USD turned bullish yesterday and retraced higher, gaining around 100 pips. The situation seems strange now since half of the UK politicians don't like Theresa May's agreement, but that was enough to send EUR/USD 100 pips higher.
But, it seems like the retrace has ended now. The price found solid resistance at the 100 SMA (green) on the H1 chart. If you see the chart history, you can see that this moving average provided support for most of last week.
It got broken to the downside on Thursday afternoon, after the FOMC statement was released, and it seems like its role has shifted to resistance now. Now the price has slipped below the 20 SMA (grey), which means that the downtrend is back in place.
I would go short on this pair, but the Brexit situation makes trading the Euro and especially the GBP pretty hard right now because you just don't know when the next comment is coming and which direction it will send these currencies. The GBP has already given back all the gains from yesterday, so nothing is certain at the moment.