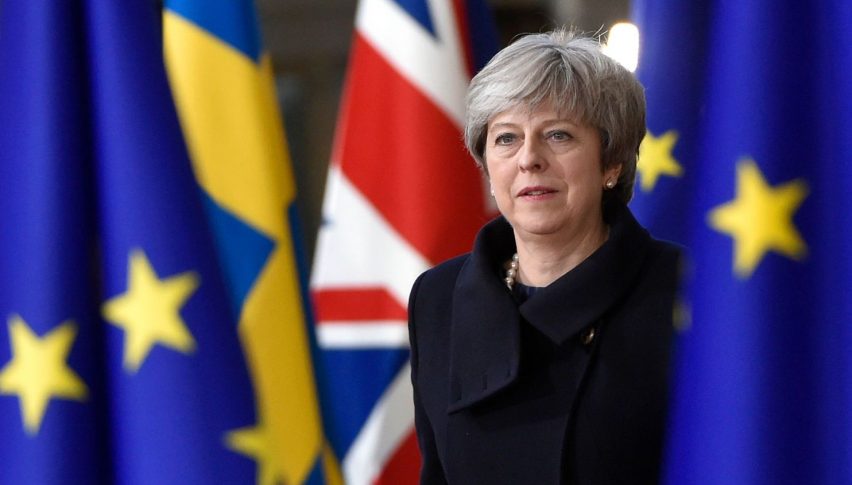 Forex Signals US Session Brief, November 15 – The Brexit Deal Could be Dead in its Infancy
On Tuesday, everyone got excited as British Prime Minister Theresa May announced that an agreement had been reached between the negotiating teams of EU and the UK regarding Brexit. As a result, GBP surged 200 pips higher, pulling the Euro up as well. The sentiment improved and the market turned against the USD as it often does in such occasions. Although, we started hearing comments from UK politicians yesterday indicating that they were suspicious about the deal. Theresa May was trying to keep the details secret, especially regarding the Irish border backstop. That offered some high volatility in forex, with EUR/USD trading on an 80 pip range while the range in GBP/USD was around 200 pips.
Today, the GBP has turned bearish and has lost around 300 pips from the highs as the details of the deal became evident. It seems that Theresa May agreed on the backstop to be indefinite or something similar, which the DUP Party on Northern Ireland and the Brexiteers don't like. Brexit Secretary Dominic Raab resigned from his position this morning which started the tumble in GBP/USD. Then, other junior members of her cabinet resigned and finally a vote of confidence has been called on May after the 48 letters needed for that were gathered. Now, we wait to see what will happen next.
The European Session
UK Brexit Secretary Resigns – Dominic Raab handed his resignation early this morning saying that he cannot support an unlimited Brexit backstop. That started the decline in GBP and, soon after, junior members of May's cabinet started resigning, such as Esther McVey, Anne Marrie Trevelyan and Braverman.
Chances of A Rate Hike by the BOE Diminish – After Raab's resignation, the rate hike from the Bank of England next year has been priced out. Now that more cabinet members have resigned and a vote of no confidence is coming, the rate hike is out the window. Unless Theresa May pulls out a miracle and manages to push this Brexit deal forward while still clinging to the position.
Her Own Party Tries to Oust May – A Tory lawmaker said today that the committee has the 48 letters needed to call for a vote of no-confidence on Theresa May. This might be the end for Theresa May and it will sink the GBP when it happens.
UK Retail Sales – Retail sales were expected to increase in the UK but they declined by 0.2%. Core retail sales which leave out car and fuel sales also declined by 0.2%. The bad news piled up for the GBP today.
Eurozone Trade Balance – The trade balance of the Eurozone was expected to remain around the same levels at 16 billion Euros, but it declined to 13.4 billion. Although, that's still a surplus.
May and the EU Still Not Sure About Brexit – At this point, no one is sure what will happen but May said earlier today that what was agreed yesterday was not the final deal. She added that both sides are not happy with the Irish border deal but if the deal doesn't pass the Parliament, it will bring us to point zero. That means no deal. An EU official said that they're not 100% sure about the deal and that it should be clear by next week. A really big mess.
DUP Believes the Deal Is Dead – The Northern Ireland DUP Party's Wells said that the Brexit deal is dead and a no-confidence vote will take place for Theresa May.
The US Session
Philly FED Manufacturing Index – This manufacturing index was expected to decline slightly to 20.1 points from 22.2 previously, but it fell to 12.9 points. That's a big decline, but the index is still positive which shows expansion.
US Retail Sales – US retail sales had two soft months previously, but today the sales jumped by 0.8%, against 0.6% expected. Core retail sales also came out better as they increased by 0.7% against 0.5% expected, so it was a good report.
US Unemployment Claims – The unemployment claims came pretty much as expected. The actual number came at 216k against 213k expected and up slightly from 214k last month.
Canadian Existing Home Sales – Existing home sales were expected to decline by 0.2% in Canada, but they fell by 1.6% which is quite a big number. This comes after last month's home sales declined by 0.4% and today's employment change also came out negative.
FED Chairman Powell Speaks – FED Chair Powell will hold a speech in Huston where he will talk about Hurricane Harvey recovery efforts. I didn't know central bankers talked about this, so let's see if he will touch the monetary policy.
Trades in Sight
Bullish USD/CAD
This pair is still bullish
The is complete
The 100 SMA is providing support
The 100 SMA provided solid support
We went long on USD/CAD with a short term buy signal. USD/CAD has been on an uptrend for most of this week, although, it has traded sideways in the last two days. That is a good sign though because the USD has lost grown against most major currencies, so trading in a range is a positive thing for the USD and a negative thing for the CAD. Once the USD starts recovering, USD/CAD will be the first to move higher. We went long at the 100 SMA (green) which has been providing support in the last two days.
In Conclusion
So, the Brexit deal is in jeopardy as is Theresa May. The GBP has lost the ground beneath its feet losing around 300 pips today and it seems like it will fall further, especially if May doesn't get enough support for the no-confidence vote. The sentiment has turned sour and USD/JPY is also tanking, so be careful out there guys.
USD/CAD continues to slide lower, although it stalled to the bottom of the range earlier, after the dive on the 25 bps hike by the BOC
1 day ago